Prime Minister Anthony Albanese met with Indian External Affairs Minister S Jaishankar today on the sidelines of the Raisina@Sydney Business Breakfast.
Prime Minister Albanese welcomed Minister Jaishankar with a very Australian banter.
"Minister, can I welcome you, very much, back to Australia. You're a regular visitor here."
PM Albanese is visiting Indian in just a few weeks time and is looking forward to being in India for the bilateral visit.
"I think we have complementary economies. I look forward to strengthening that as well, as well as on security issues. Operation Malabar, of course, will occur in the coming period, which we are hosting," added PM Albanese.
"We have much to talk about today. And you are a very welcome visitor in our country."
During the meeting, Prime Minister Albanese took a tour of his residence and showed Minister Jaishankar all the important locations that were visible from his garden area.
Two different sources in the know how of the meeting told The Australia Today, "Minister Jaishankar was upfront with India's concerns regarding safety of Indian Diaspora specially International students in light of Khalistan related violence in Melbourne."
"PM Albanese heard Minister Jaishankar patiently and assured him about steps Australia is taking to confront foreign interference within different Diaspora communities."
Indian External Affairs Minister Jaishankar tweeted after the meeting.
"Our discussions reflected the full spirit of our strategic partnership. Apprised @AlboMP of recent developments in that regard."
In last few months Indian Australian community has been targeted by USA and Canada based Khalistan separatist groups. These groups have been trying to recruit Australian Indian youths for their divisive agenda.
Five Hindu temples in Melbourne and Brisbane have been vandalised or threatened by these overseas actors.
The importance of Australia-India relationship can be understood by the fact that PM Albanese will be visiting India atleast twice this year and Indian PM Narendra Modi will be in Australia around midle of the year.
PM Albanese also stressed that "And I know that my Treasurer is there, I think, next week for a series of meetings that will be hosted in India for the G20. It will be an important period."
"Our relationship goes from strength to strength. I've already had a number of meetings with your Prime Minister. And our economic relationship is important."
Prior to their meeting, Minister Jaishankar addressed the audience at Raisina@Sydney Bussiness Breakfast on Saturday and talked about the economy and the COVID issue.
Minister Jaishankar said, "India is targeting 7 per cent growth this year, but we expect it to improve in the next five years. And definitely, we would stay in the 7-9 per cent range at least for a decade and a half".
"And you can today see the same reflected in the investment climate, both in the flow of FDI, FII as well as in the investments which the government itself is leading the capital outlay in this year's budget,"

he added.
Raisina@Sydney Bussiness Breakfast was organised by the Australian Strategic Policy Institute (ASPI) and India's Observer Research Foundation (ORF) in Sydney.
Taking about the Economic Cooperation and Trade Agreement (ECTA) signed between Australia and India on April 2 2022, and came into force on December 29, 2022, Minister Jaishankar said that the ECTA has a "good impact on trade".
"Encouraging greater investments should be the focus, especially during CEO Forum meets or the Prime Minister and Trade Ministers visit,"

he suggested.
Jaishankar also spoke about migration mobility and said, "We've seen a very substantial movement of Indian talent to Australia. We have roughly about a million students staying in here."
"We would welcome Australian universities to India. For us, it's not just about Indian students coming to Australia but it's also about Australia and India working together to produce skilled, competitive talent in India for the entire world,"

added Minister Jaishankar.
While addressing the audience Jaishankar also said that India has overcome the challenges of the COVID-19 pandemic "quite strongly."
He also said that the impact of COVID has been devastating on the world economy, and added, "Perhaps we in India and Australia feel it much less."
"Perhaps we in India and Australia feel it much less as someone who travels a fair amount to other parts of the world when we look at Africa and Central America and some other parts of Asia in my own neighborhood. Sri Lanka, Bangladesh, Nepal,"

he said.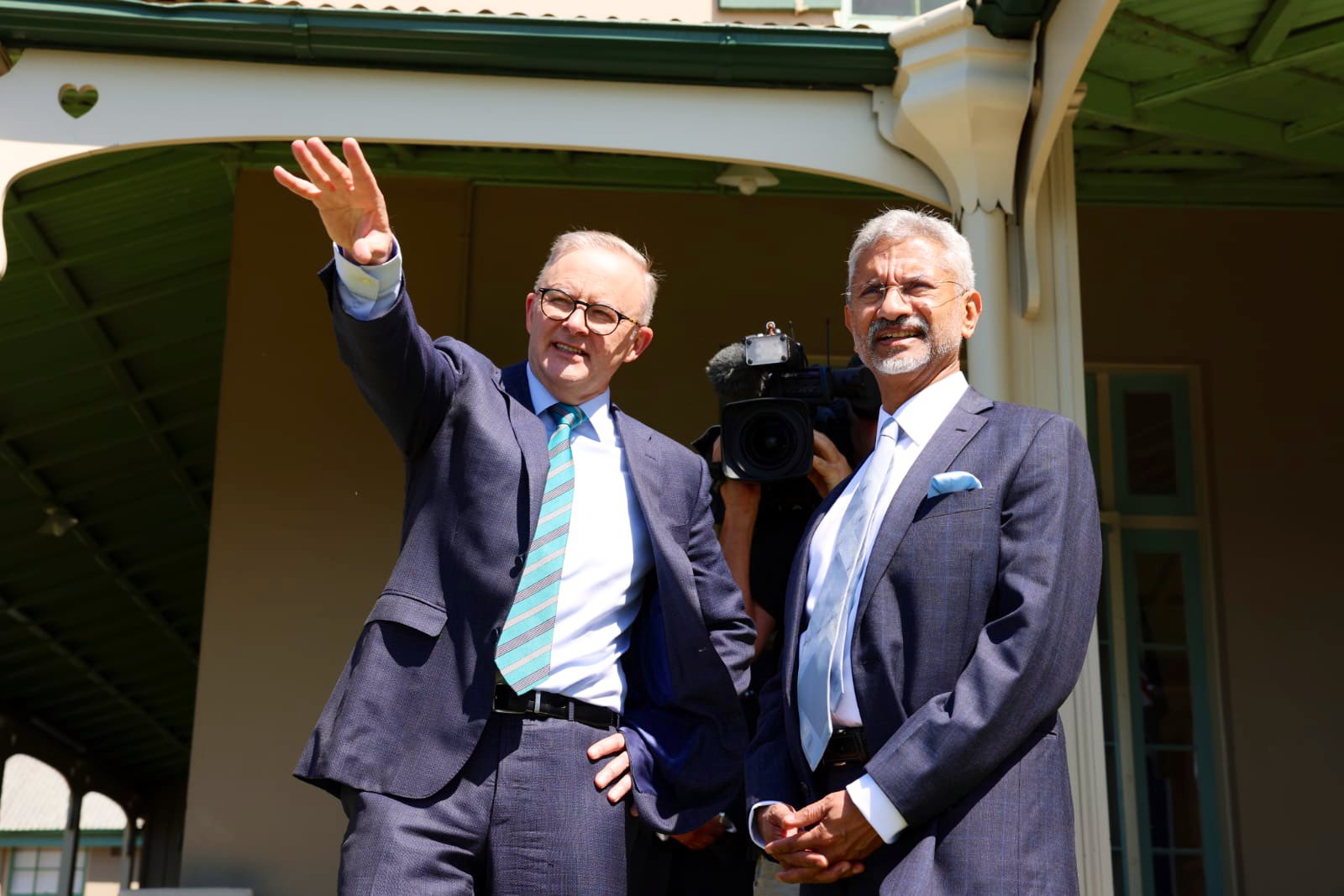 After the keynote address of Jaishankar, a panel session will be held that would cover topics like "Next steps in the Australia-India economic partnership: stability, security and sovereignty," and it will be addressed by keynote speakers: Vivek Lall, Chief Executive, General Atomics Global Corporation; Jodi McKay, National Chair, Australia-India Business Council; Vikram Singh, Vice President, and Country Head – ANZ, Tata Consultancy Services and facilitated by Bec Shrimpton, Director, The Sydney Dialogue, Australian Strategic Policy Institute.