A spokesperson for the Australian Foreign Minister Penny Wong has said that they are deeply concerned by allegations made by Canada's Prime Minister Justin Trudeau against India.
In a statement to The Australia Today a spokesperson for Foreign Minister Penny Wong said,
"Australia is deeply concerned by these allegations and notes ongoing investigations into this matter. Australia believes all countries should respect sovereignty and the rule of law."
The statement further reads:
"We are closely engaged with partners on developments. We have conveyed our concerns at senior levels to India. We understand these reports will be particularly concerning to some Australian communities.

The Indian diaspora are valued and important contributors to our vibrant and resilient multicultural society, where all Australians can peacefully and safely express their views."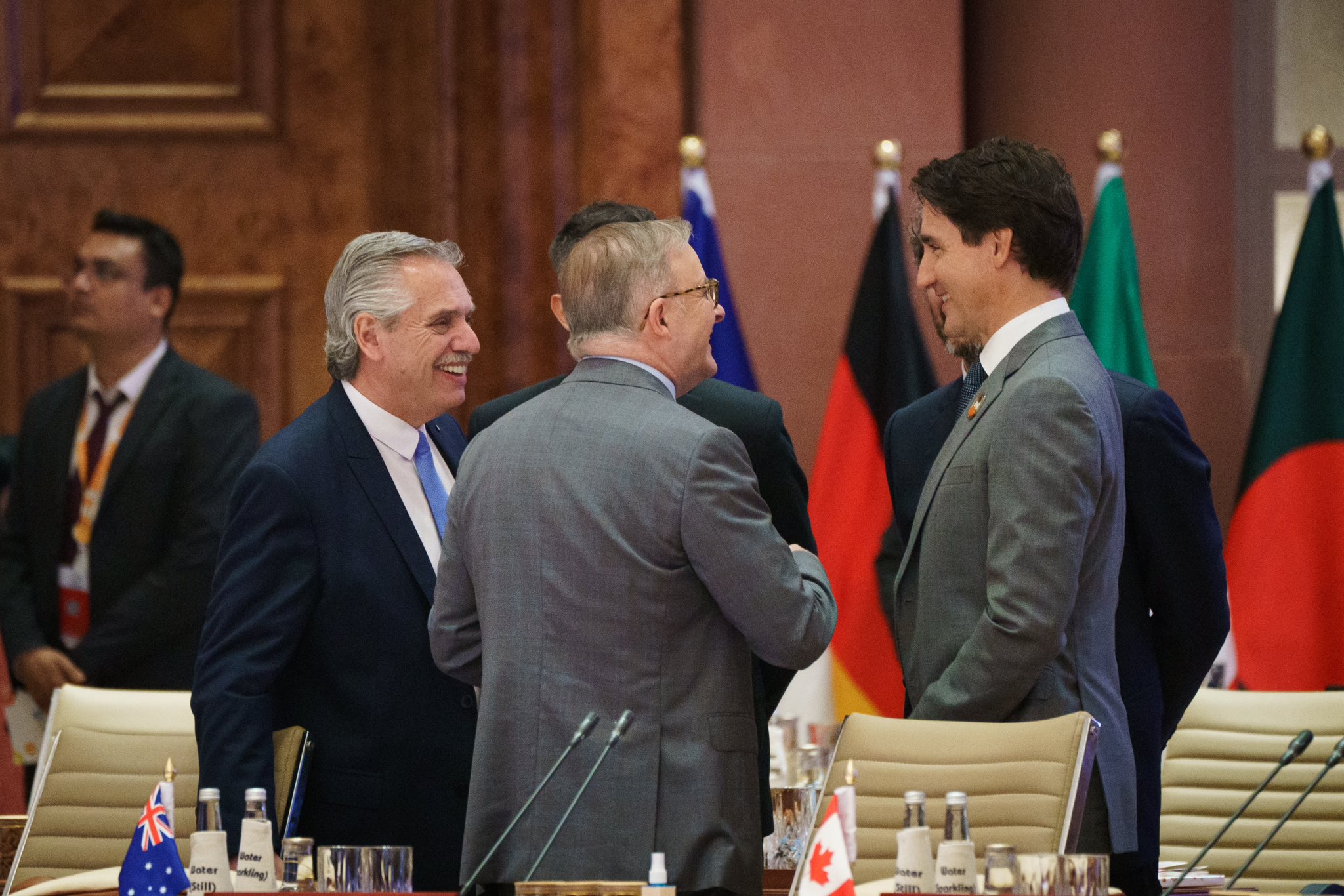 However, when Prime Minister Albanese was asked if he regretted calling the Indian PM 'the boss' given these allegations, the Prime Minister asked the reporter who posed the question to "chill out a bit".
"Seriously, you should chill out a bit," said PM Albanese
"You know, we're at a venue where Bruce Springsteen played the last time I was there and I made the point that the reception he got from the community, which was a very broad-based community … from the Indian diaspora, welcomed him very strongly. It's as simple as that.
"So, I welcomed Prime Minister Modi to Australia, as I welcome other guests to Australia as well."
"I have had the privilege of being at the G20. And at the G20, hosted by India, that was a major event, which signalled in part, the rise of countries in our region is very important, whether it be India, Indonesia, Vietnam, the Philippines, these are all important relationships."
When asked about whether he had raised this issue with PM Modi during the recently concluded G20 in India, PM Albanese replied
"I don't talk about Five Eyes intelligence at a press conference, funnily enough, that's why it's called intelligence because we don't speculate on what the intelligence is."
India has denied these allegations calling them absurd and motivated
It is important to note that the violence unleashed by Khalistani extremists in Melbourne which was recorded on camera is still under investigation and some suspects are yet to be caught nine months since the violence occurred.
Khalistani terrorism emanating from Canada has been a concern for India for many decades. In one of the deadliest terror attacks in aviation history before 9/11, 329 people were killed by Khalistani terrorists on Air India flight 182 which was flying from Montreal to Mumbai via London and New Delhi on 22nd June 1985.
More recently Canada allowed a tableau glorifying the assassination of former Prime Minister of India Indira Gandhi.
Mrs. Gandhi belonged to the Congress party which is currently in Opposition in India and was shot dead by her own Sikh bodyguards in 1984 which was during the height of Khalistan terrorism in the 1980s. Her assassination was tragically followed by mass murders of Sikhs (the official death count is over 3000 in New Delhi and over 8000 across India) allegedly by members of Mrs. Gandhi's political party.
The current government in India is pursuing cases related to those killings and was thanked by Sikh leaders in India for doing so. Khalistan terrorism was brought to an end in India by the late nineties but some elements of this terrorist movement have remained operational outside India.
There have also been reports of attacks even on members of the Sikh community themselves who do not subscribe to their violent extremism.
Ujjal Dosanjh, former Premier of British Colombia, a Sikh himself, was attacked and viciously beaten for his opposition to Khalistani extremism in 1985, in the parking lot of his office in Vancouver, Canada. He was targeted again in 1999, while he was a member of the Legislative Assembly of British Columbia in Canada when his constituency office was attacked.
More recently a Sikh broadcaster Harnek Singh was brutally attacked in Auckland, New Zealand, in 2020. The High Court in New Zealand ruled this was an attack motivated by religious extremism finding fellow Sikh Jaspal Singh guilty of attempted murder. The trial for the other accused in this case is ongoing.
Khalistan Terrorism Background
India was rocked by Khalistan terrorism through the 1980s. Thousands of Hindus and Sikhs were killed in the Indian state of Punjab by terrorists who were allegedly supported by Pakistan's intelligence agency the ISI.
The Khalistani terrorists wanted a separate state for the Sikhs carved out only from Indian Punjab leaving no one in doubt about who was pulling the strings.
When India was partitioned based on the communal agenda of leaders like Mohammed Ali Jinnah, Punjab was partitioned too. Given the communal nature of the new state carved out of India, not just the Hindus but all other minorities in these areas suffered a huge blow.
Before the partition of India, it is estimated that over 2 million Sikhs lived in what is now the territory of Pakistan, especially in Pakistan's Punjab region. Today that figure ranges between 10,000 to 50,000 approximately around 0.01% of Pakistan's population. On the other hand, in India during this time the Sikh population has grown from an estimated 700,000 to over 20 million. Sikhs are involved in every sphere of activity in India with two of the past ten Army Chiefs in India belonging to the Sikh faith.
The birthplace of the founder of Sikhism, Guru Nanak Devji, is located in Nankana Sahib, Pakistan. The Pakistani city of Lahore was the capital of the Sikh King Ranjit Singh (popularly known as Sher-e-Punjab or the 'Lion of Punjab') who ruled in the early half of the 19th century. Given the near ethnic cleansing of the Sikhs from Pakistan in spite of the rich Sikh history of the region, the agenda of the Khalistani separatists is a matter of grave concern for Sikhs in India and around the world.
While Khalistan terrorism was brought to an end by India within its territory almost thirty years ago, some groups of Khalistani separatists and their supporters have remained active in some Western countries allegedly with support from Pakistan's spy agency ISI.
Many victims of Khalistani terrorism including Hindus and Sikhs live in Australia and are deeply disturbed by the omission of vital facts and one-sided reporting by some media outlets here.
Further, there is also concern among the diaspora that no arrests have been made so far over several attacks on Hindu temples across Australia.
Khalistani extremists have also released several posters and videos openly inciting hatred against the diaspora and Hindus in particular and yet there has been no concrete action taken against this religious vilification so far.
The Indian diaspora is closely watching these developments.
Support Our Journalism
Global Indian Diaspora needs fair, non-hyphenated, and questioning journalism, packed with on-ground reporting. The Australia Today – with exceptional reporters, columnists, and editors – is doing just that. Sustaining this needs support from wonderful readers like you.
Whether you live in Australia, the United Kingdom, Canada, the United States of America, or India you can take a paid subscription by clicking Patreon. Buy an annual 'The Australia Today Membership' to support independent journalism and get special benefits.