Ben Stokes' incredible knock of 155 runs couldn't secure the win for his side as Australian bowlers bounced and won the 2nd Ashes Test by 43 runs at the Lord's Cricket Ground on Sunday.
With this win, Australia is 2-0 up in the five-match series.
At the beginning of the second session, England need 128 runs to win. The second session resumed as England was 250/6 after 58 overs. Ben Stokes was batting on 114* and on comes Stuart Broad on 2*.
Ben Stokes played a captain's knock of 155 runs off 213 balls. He gave the Australian bowlers a tough time as his explosive batting style was hard to deal with.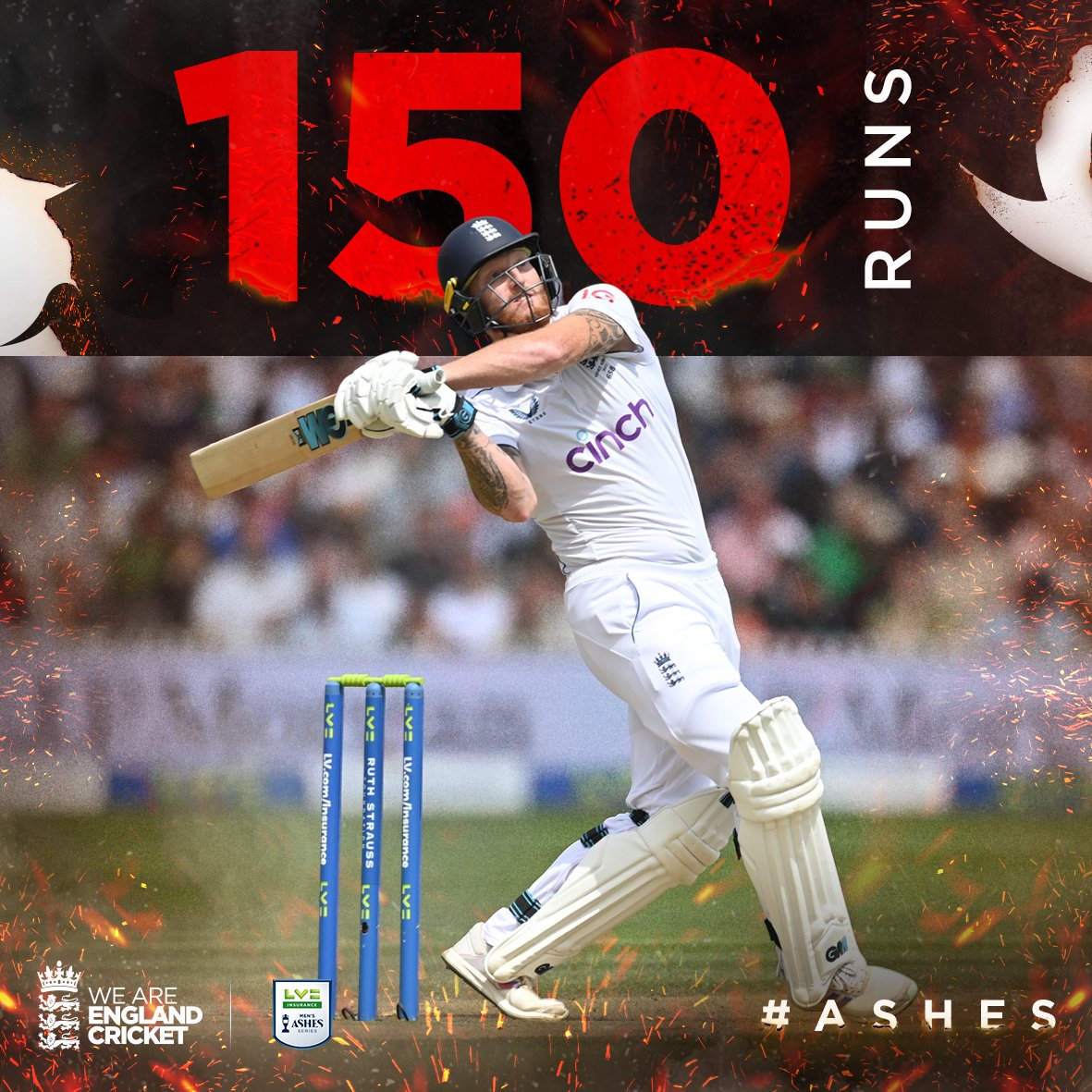 Eventually, the Aussies fought their way back in the came as Josh Hazelwood took the wicket of Ben Stokes. After which, England's wickets kept falling one after the other.
After 68.2 overs, Ben Stokes scored 151* runs off 197 balls. He smashed nine boundaries and nine maximums.
Also after the 68th over, 100 run partnership was done between Ben Stokes and Stuart Broad.
300 run mark came up for England in 71.4 over. Ben Stokes was batting on 155* and Stuart Broad on 11*.
In the 72.1 over, Josh Hazelwood took the big wickets of Ben Stokes who was looking to take away the game from Australia's hand.
A miss hit shot led to the dismissal of Ben Stokes, as Alex Carey comfortably took the catch. Ben Stokes made 155 runs off 213 balls. He smashed nine boundaries and nine maximums.
In the 73.1 over, Pat Cummins took the wicket of Ollie Robinson, thanks to an outstanding catch by Steve Smith. Ollie Robinson scored one run off six balls.
In the 74.1 over, Josh Hazelwood took the wicket of Stuart Broad, the catch was taken by Cameroon Green. Stuart Broad scored 11 runs off 36 balls, he hit two boundaries.
In the 81.3 over, England were all out at the score of 327.
Mitchell Starc took the last wicket of Josh Tongue. He scored 19 runs off 26 balls.
Cummins (3/69), Starc (3/79) and Josh Hazlewood (3/80) did the most damage to England batters.
After Lunch, England managed to put up a score of 243/6 with skipper Stokes and Stuart Broad unbeaten with scores of 108(147)* and 1(10)* respectively.
The dramatic session started with England batters losing their nerves against Australia's bouncer ploy and ended with Stokes receiving thunderous applause from the crowd while climbing the stairs and the crowd booing Australian players as they made their way back to the dressing room.
England started the session on a positive note with Ben Duckett and Stokes keeping the scoreboard ticking and picking up boundaries on possible occasions.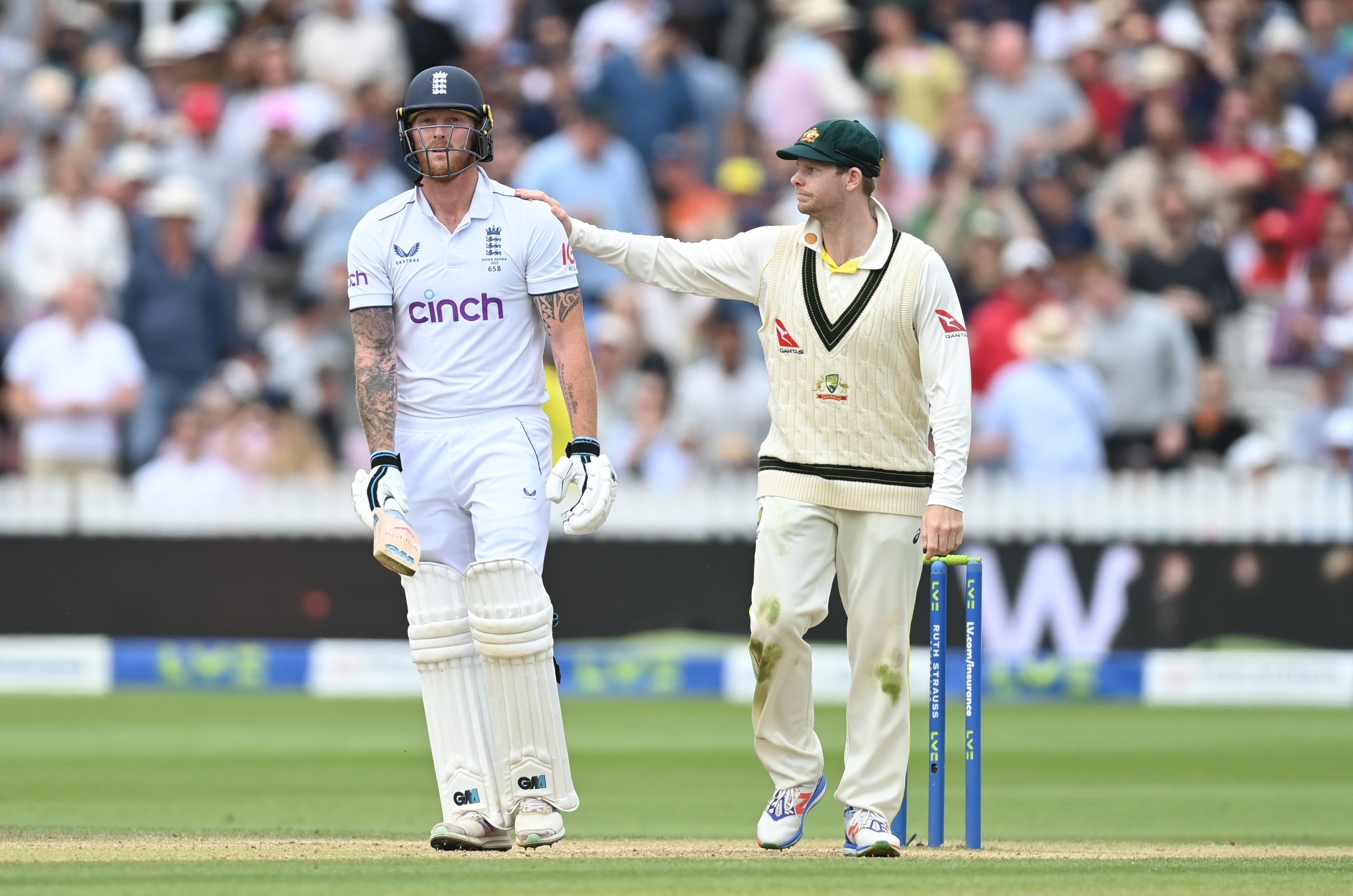 The momentum started to shift in Australia's favour as Starc and Hazlewood started to produce precise bodyline bouncers. Duckett was the first batter who lost his cool and decided to go after the bowler. He tried to play a pull shot off Hazlewood but failed to time his shot. A top edge carried straight into the hands of Alex Carey behind the stumps. Duckett departed for a score of 83(112).
Jonny Barstow stepped on the crease to carry England's hope of clinching victory alive. He was mindful of the short balls, left them on occasion and focused more on strike rotation.
The nerves started to settle down once again as the Three Lions looked to take control of the chase. But once again Australia managed to make a comeback with a touch of cunningness.
Jonny Bairstow's debatable run-out 
In the 52nd over Bairstow ducked following a bouncer from Cameron Green, and the ball went straight into the hands of Carey. Bairstow casually walked off the crease thinking that the ball was dead. Carey saw the opportunity and took it. His direct hit clipped the bails off the stumps and gave Bairstow a moment that he won't forget for the rest of the series. Bairstow departed for a score of 10(22).
Things started to heat up as once again the spirit of cricket was questioned. Stokes saw everything and decided to turn the Test match into a T20I game as he switched through gears with each ball.
The crowd continued to boo Australia bowlers on every bouncer, while Stokes continued to smash the ball for fun. Green became his target as he struck 24 runs in a single over.
Stuart Broad on the other end held on to his wicket and barely took a run. Australia tried to put pressure on Broad with their bouncer plan, and the veteran pacer survived all of them. He even went on to take a dig at Carey by saying 'Is the ball dead?'
Stokes raised his bat in the 56th over by sending the balls flying into the stands. England ended the session with a score of 243/6 in 57 overs and is still in need of 128 runs.
England had started the day at 112/4, with Stokes (29*) and Duckett (50*) unbeaten.
Australia had got a 370-run lead over England after they scored 279 in their second innings. Usman Khawaja (77), Steve Smith (34) and Marnus Labuschagne played crucial knocks for the Aussies.
England bowled well, with Broad taking 4/65. On the other hand, Tongue, and Robinson got two wickets while Stokes and Anderson got one.
MCC apologises to the Australian team after Members verbally abused players in Long Room
Australia's opening duo Usman Khawaja and David Warner were confronted by spectators in Lord's Long Room after the end of the first session of Day 5.
"It is alleged that players and staff from the Australian team were verbally abused, with some being physically contacted, as they made their way to lunch through the members' area,"

Cricket Australia said in a statement.
Initially, it was Khawaja who was seen talking to a spectator as the crowd continued to "boo" the entire Australian team. David Warner was behind the line witnessing the heated conversation between Khawaja and the spectator.
Warner then stepped in to have a chat with that spectator. Umpires and security staff intervened to separate Warner and he ended up leaving the scene.
The video footage surfaced on social media emerged which revealed more patrons yelling abuses and calling Australian players 'cheats'.
"The Long Room is unique in world cricket and the great privilege of players passing through the Pavilion is very special," an MCC spokesperson said as quoted by cricket.com.au.
"After this morning's play, emotions were running high, and words were unfortunately exchanged with some of the Australian team, by a small number of Members. We have unreservedly apologised to the Australian Team and will deal with any Member who has not maintained the standard we expect through our disciplinary processes. It was not necessary to eject anyone from the ground and I am pleased to say that there was no repeat of this as the players resumed the field for this afternoon's session," the MCC spokesperson concluded.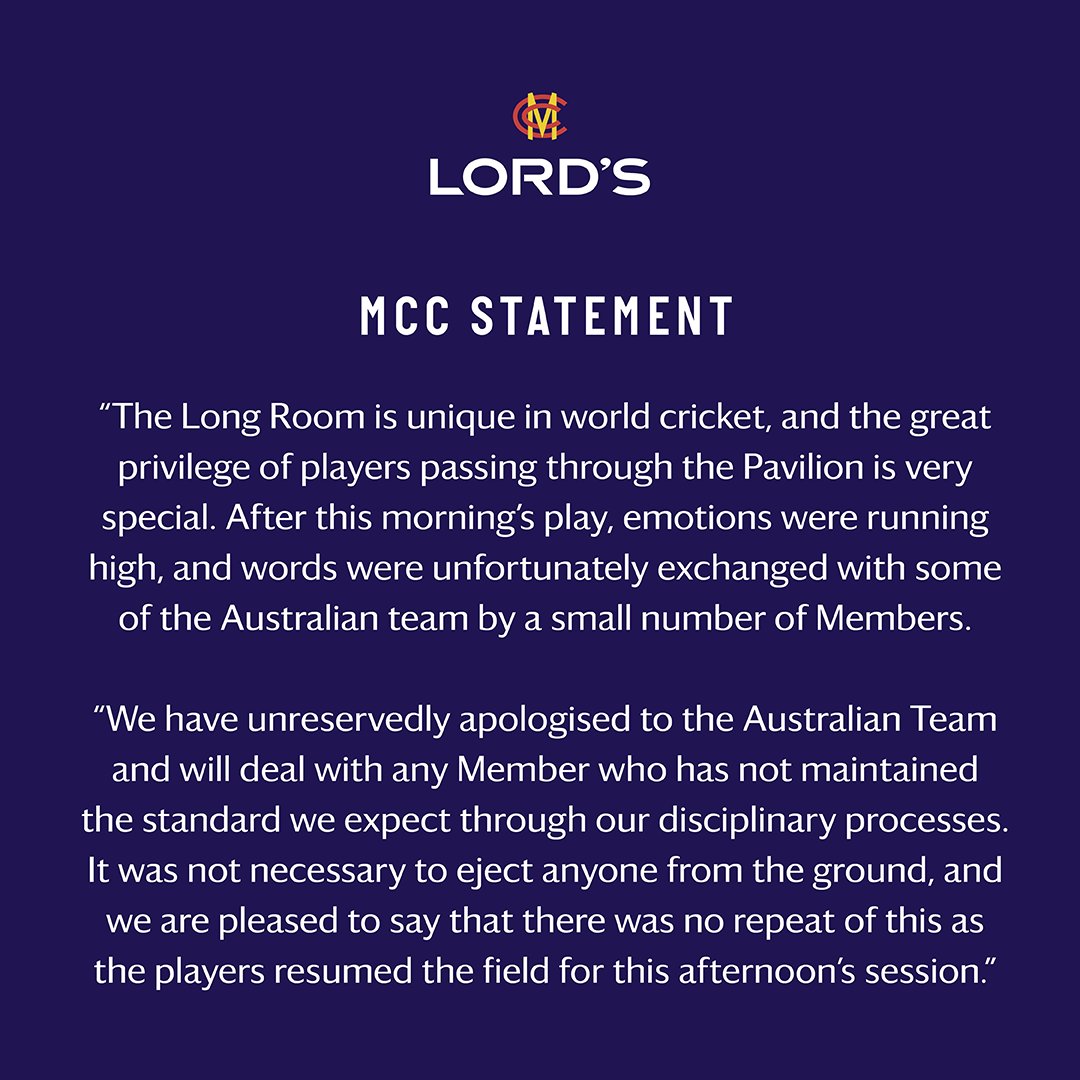 In their first innings, England was bundled out for 325 runs and they trailed by 91 runs against Australia.
Ben Duckett (98) and Harry Brook (50) scored vital half-centuries for England.
Mitchell Starc (3/88) took three scalps while Josh Hazlewood and Travis Head got two.
Australia in the 1st innings made 416 runs. Steve Smith topped the scoring charts with 110 in 184 balls, with Travis Head (77) and David Warner also making attacking fifties.
Tongue (3/98) and Robinson (3/100) took crucial wickets for England.
Brief Scores: England: 325 and 327 (Ben Stokes 155, Ben Duckett 83, Pat Cummins 3/69) lost to Australia: 416 and 279 (Usman Khawaja 77, Steve Smith 34, Mitchell Starc 3/88).