In a remarkable development that underlines the growing recognition of Fijian football on the global stage, Digicel Fiji Kula rep Trina Davis is set for trials with the Wellington Phoenix Football Club in New Zealand.
Trina, who has regularly started for the Digicel Fiji Kulas squad, has captivated the attention of football enthusiasts with her exceptional performances on the pitch. As she prepares to embrace the challenge of a trial stint with the Wellington Phoenix, her journey evolves into an inspiring narrative, resonating with aspiring football talents both in Fiji and beyond.
Born in the United States, Trina is the first Fiji woman professional football player. At the age of 16, she made her international senior debut at the OFC Women's Nations Cup in 2018.
She has been an influential figure within the Digicel Fiji Kulas squad, showcasing her prowess as a determined and gifted athlete.
While this is not her first professional football experience, Trina expressed, she is:
"thrilled and deeply honored to have the chance to demonstrate my capabilities at a prestigious club such as Wellington Phoenix. This opportunity not only reflects my effort but also underscores the potential that Fijian football brings to the global stage."
The 21-year-old, first inked her professional football contract in 2021, aligning with the Israeli club ASA Tel Aviv. Building on her momentum, she further solidified her career trajectory by securing a contract with Puerto Rico Sol FC the following year where she played in the top-tier league, Superior Femenino de la Liga Puerto Rico.
Trina's journey follows in the footsteps of another trailblazer from Fiji, Roy Krishna, the captain of the Digicel Fiji National Team. Krishna's memorable stint with Wellington Phoenix spanned five years, during which he etched his name as the club's all-time top scorer and secured prestigious accolades including the A-League Golden Boot and the Johnny Warren Medal for Best Player.
She also articulates her outlook for the Wellington Phoenix trial, anticipating dynamic and fast-paced soccer. While she acknowledges the challenge ahead, she eagerly anticipates the prospect of playing within a team environment once again after being out of the professional scene since her injury last year.
In her candid assessment of her strengths and areas for growth as a player, Trina shares:
"My primary strengths lie in my speed and strength, my off-ball movements are strategic, and my crosses are pinpoint. I thrive as a team player and use criticism constructively to learn from my errors."
Trina exudes confidence in her ability to seamlessly integrate into the team and carve a niche for herself by showcasing her abilities and scoring prowess. Confronting the challenges of acclimatising to a new country, she acknowledges the adjustment while embracing the excitement of exploration and experiencing diverse cultures.
The excitement resonates beyond Davis, as two more Fijian footballers gear up for their own trials in the coming weeks.
Angeline Rekha, a rising star from the Young Kulas and a member of the Fiji U19 team, is set for trials at Wellington Phoenix next month. Similarly, Faazil Ali, a key figure in Fiji's U20 World Cup squad that competed in Argentina, is set to make his mark as he embarks on his trial concurrently.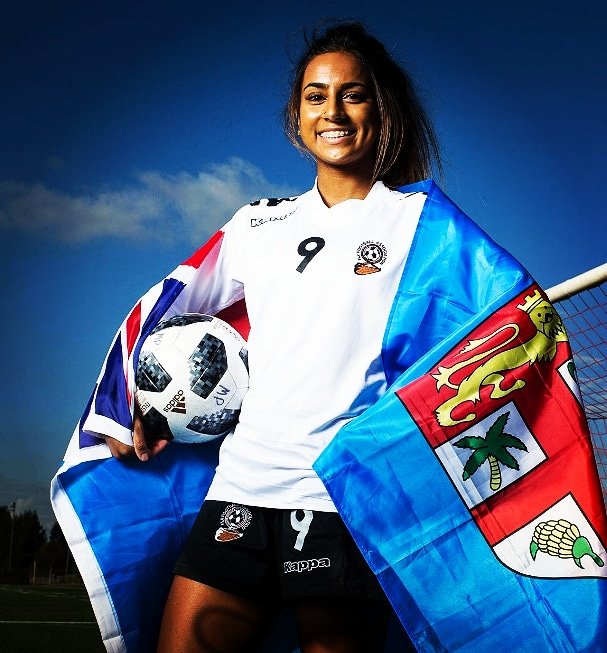 Trina extends advice to fellow players contemplating trials, urging them to seize opportunities for experience and exposure.
Adding to this journey, Trina's teammates, Cema Nasau and captain Sofi Diyalowai, are wrapping up their time with the Orlando Pride who competes in the top-tier National Women's Soccer League in the US.
Mohammed Yusuf, CEO of Fiji Football Association, expressed his pride in yet another national team player venturing into trials.
"Her narrative stands as a motivation for aspiring footballers who dream of playing internationally. With each trial and opportunity, Fijian football improves, paving the way for a brighter sporting future in Fiji."
These trials have been facilitated through funding from the Oceania Football Confederation.
Support Our Journalism
Global Indian Diaspora needs fair, non-hyphenated, and questioning journalism, packed with on-ground reporting. The Australia Today – with exceptional reporters, columnists, and editors – is doing just that. Sustaining this needs support from wonderful readers like you.
Whether you live in Australia, the United Kingdom, Canada, the United States of America, or India you can take a paid subscription by clicking Patreon. Buy an annual 'The Australia Today Membership' to support independent journalism and get special benefits.