The Federal Government has achieved a monumental milestone with the successful passage of groundbreaking legislation that promises to usher in the single most significant investment in affordable and social housing in over a decade.
This historic legislation paves the way for the creation of the $10 billion Housing Australia Future Fund, a game-changing initiative that will have a profound and lasting impact on the lives of countless Australians.
The Housing Australia Future Fund is set to become a cornerstone of the nation's social and affordable rental housing landscape, providing a secure and continuous source of funding for these vital housing sectors. This achievement marks a watershed moment in Australia's commitment to addressing the pressing issue of housing affordability and accessibility.
The significance of this legislation embodies the promise Prime Minister Albanese made to the Australian people before the election—a commitment to address the housing crisis head-on and provide practical solutions to a problem that has plagued generations of Australians.
One of the most compelling aspects of the Housing Australia Future Fund is its role in delivering on the government's pledge to construct 30,000 new social and affordable rental homes within the fund's inaugural five years. This ambitious endeavour will include the creation of 4,000 homes dedicated to women and children affected by family and domestic violence, as well as older women facing the risk of homelessness.
The impact of this initiative extends far beyond the creation of new homes.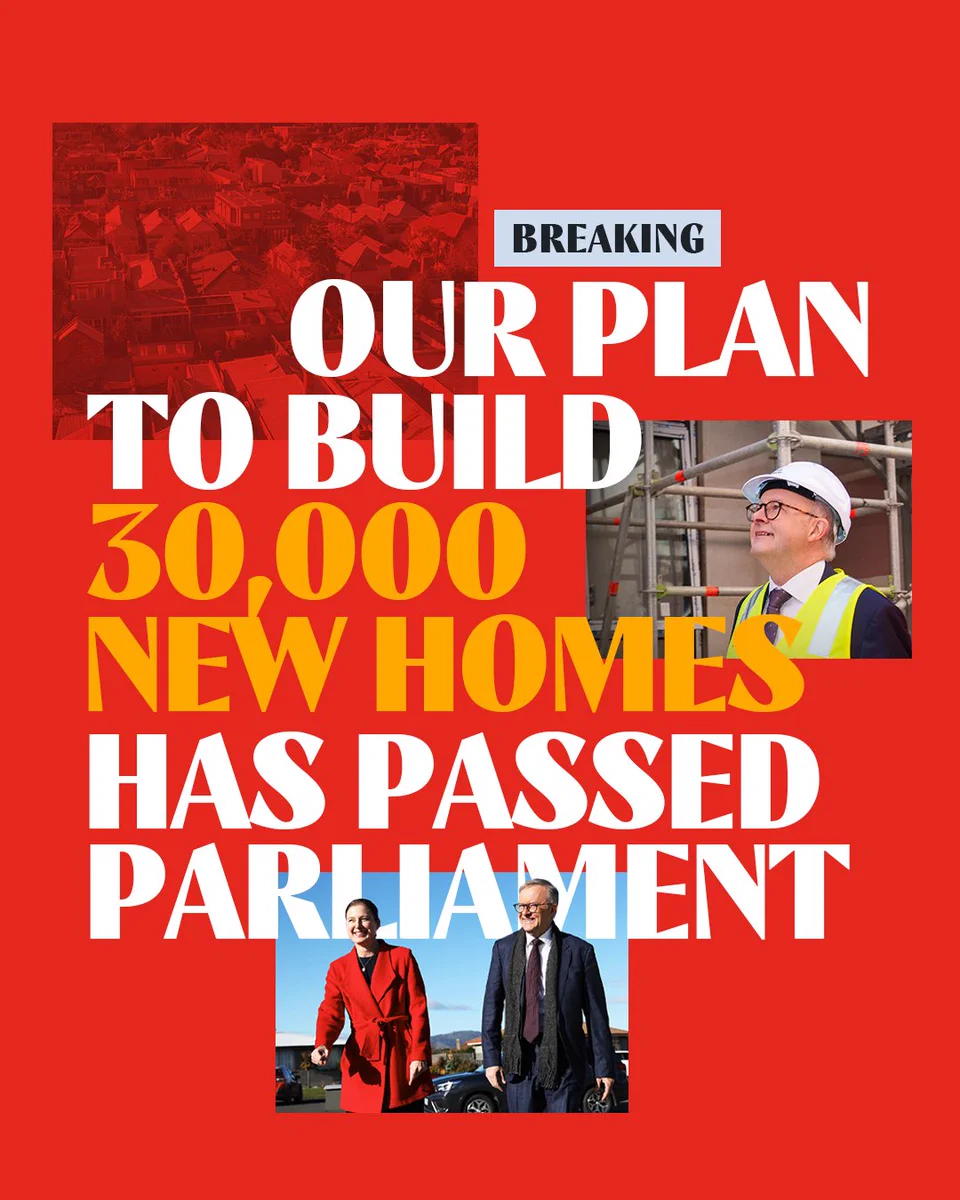 Housing Australia Future Fund will also allocate:
$200 million for the repair, maintenance, and enhancement of housing in remote Indigenous communities, contributing to the improvement of living conditions in these areas.
$100 million to provide crisis and transitional housing for women and children affected by family and domestic violence, as well as older women at risk of homelessness, offering them a lifeline in their time of need.
$30 million to construct housing for veterans who are either experiencing homelessness or are at risk of becoming homeless, honouring the service of those who have served our nation.
In addition to the Housing Australia Future Fund, this comprehensive package of housing legislation includes the National Housing Supply and Affordability Council Bill 2023. This legislation establishes the National Housing Supply and Affordability Council as an independent statutory advisory body, enhancing the government's ability to develop effective housing policies.
Furthermore, the Treasury Laws Amendment (Housing Measures No. 1) Bill 2023 renames the National Housing Finance and Investment Corporation to Housing Australia while streamlining its functions, reinforcing its role as a key player in the nation's housing sector.
The Housing Australia Future Fund forms a pivotal part of the Federal Government's ambitious housing reform agenda, which includes a range of initiatives aimed at addressing the housing crisis. These include setting a new national target to construct 1.2 million well-located homes, a $3 billion New Homes Bonus, a $500 million Housing Support Program, and a $2 billion Social Housing Accelerator, among other measures.
It is a giant leap forward in Australia's commitment to providing accessible and affordable housing for all its citizens. The federal government is dedicated to building a brighter future, where secure and affordable housing is not just a dream but a reality for every Australian.
With this monumental legislation in place, the nation looks ahead to a future where housing security is no longer a concern for Australians, but a fundamental right enjoyed by all.

Support Our Journalism
Global Indian Diaspora needs fair, non-hyphenated, and questioning journalism, packed with on-ground reporting. The Australia Today – with exceptional reporters, columnists, and editors – is doing just that. Sustaining this needs support from wonderful readers like you.
Whether you live in Australia, the United Kingdom, Canada, the United States of America, or India you can take a paid subscription by clicking Patreon. Buy an annual 'The Australia Today Membership' to support independent journalism and get special benefits.