Victoria recorded 950 new local cases of COVID19 today and 7 people have died. This is 87 cases more than what NSW recorded. In the 24 hours to 8:00 pm, yesterday NSW's locally acquired COVID-19 cases number is 863 cases and 15 deaths.
Both states recorded the highest daily number ever in terms of daily deaths due to the current outbreak. This brings the number of deaths from the third wave in Victoria to 36.
Due to the soaring new infections, today's 950 is the highest number ever recorded in a single day in Victoria. It is in line with projections over the next month, with a peak expected in late October.
VICTORIA COVID Hospitalisations as of Today,
371 in hospital (-4)
81 in ICU (+0)
55 on a ventilator (-6)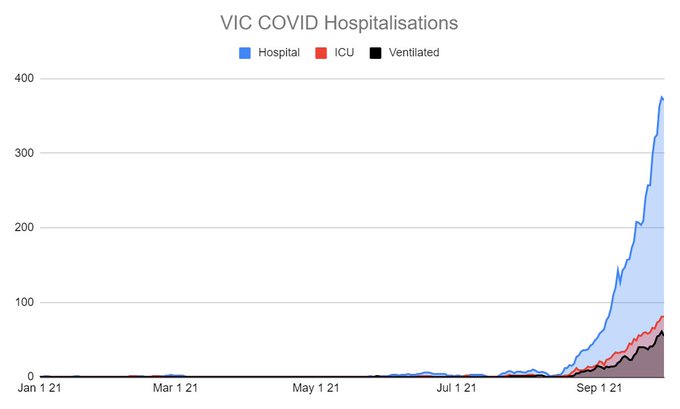 Acting CHO Ben Cowie says 88% of people in Victoria who have contracted COVID-19 since July 12 were unvaccinated. 98% of people admitted to Victorian intensive care units with COVID-19 during the same period were unvaccinated.
VIC Cases over the past 14 days by LGA
Metro: 8752 (6287)
Regional: 221 (94)
Top LGAs:
Hume: 3070 (2249 unlinked)
Whittlesea: 932 (714)
Moreland: 780 (420)
Wyndham: 628 (432)
Brimbank: 444 (355)
Melton: 379 (287)
Darebin: 286 (214)
Casey: 281 (187)
On the other hand, NSW Hospitalisations are down 73 overnight,
1082 in hospital (-73)
212 are in ICU (-1),
108 on a ventilator (-5).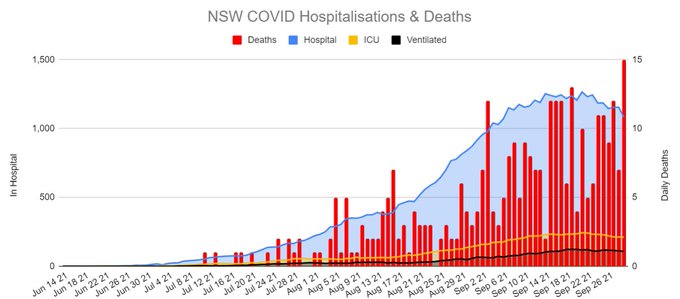 10.1% of active cases in NSW are in the hospital. 2% of active cases are in ICU.
15 deaths today, total at 331.
Victoria's Latrobe Valley in the middle of a COVID outbreak
All 22 cases in the Latrobe Valley are linked to an illegal gathering over the AFL grand final weekend. The cases are spread across 19 households.
Earlier yesterday Victoria's Acting Chief Health Officer declared that the City of Latrobe to enter a seven-day lockdown commencing at 11:59 pm, 28 September. And same restrictions were imposed as those in metropolitan Melbourne.
In the daily press conference, Victoria's Health Minister Martin Foley apologised for the short notice, saying the situation "deteriorated quite rapidly".
Minister Martin Foley also said they are waiting for the Federal Government to confirm Pfizer supply for the last week of October before they reduce the time between vaccines from 6 weeks to 3. That announcement is expected on Friday.
In a triumph to contact tracing, 99.7 per cent of positive cases in Victoria are being contacted within 24 hours.
If you have not forgotten the ugly scenes of protests at CFMEU Head Office by the construction workers. Another bad news came when CFMEU Head Office was declared a COVID-19 tier-one exposure site.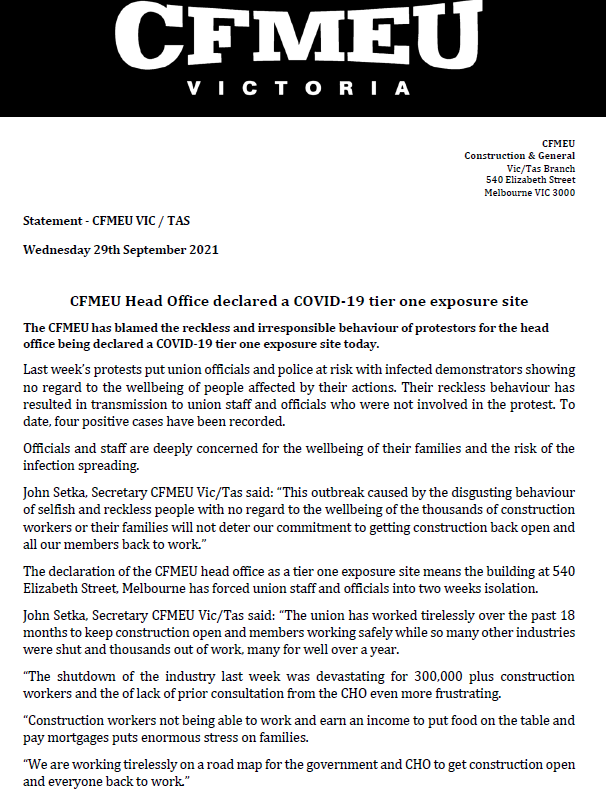 16+ population Australian Vaccination rollout progress 29/09/2021
Already had First Vaccine = 76.68%
Already had Second Vaccine = 52.57%
80 % fully vaccinated at current rate:
National: 39 days – Nov 7
NSW: 17 – Oct 16
VIC: 41 – Nov 9
QLD: 62 – Nov 30
WA: 64 – Dec 2
SA: 56 – Nov 24
TAS: 38 – Nov 6
ACT: 23 – Oct 22
NT: 54 – Nov 22
Doherty modelling clearly says there may be a need for lockdowns beyond 80% vaccination unless we have the "low" level rules ongoing Which mean crowd restrictions, so industries like entertainment or hospitality stay affected for a while.