Australian mainstream media outlets just silenced six days of jihadi terror attacks against Bangladeshi Hindus sparked off by a false allegation of blasphemy on 13 October 2021.
On Thursday, The Australia Today reported police had identified the primary suspect, Iqbal Hossain. CCTV footage of Hossain shows him leaving Darogabari (shrine) after 2 am on 13 October 2021.
It shows him carrying a book like the 'Koran' later found in the lap of Bhagwan Hanuman at Nanua Dighir Par Durga puja pandal. He is captured leaving with a mace identical to one found missing from the Bhagwan Hanuman murti in the morning.
The Financial Express reports today that police arrested the suspect at Cox's Bazar on Thursday 21 October at 10 pm.
Citti media interviewed ISKON Vice President and spokesperson Radharamn Das of Calcutta last night for the first time since the attacks.
Mr. Das said calls to 'behead anyone who dishonours their book' leading up to Hossain's arrest only ceased once the culprit was found to be 'a member of their own community and 'not a kaffir.'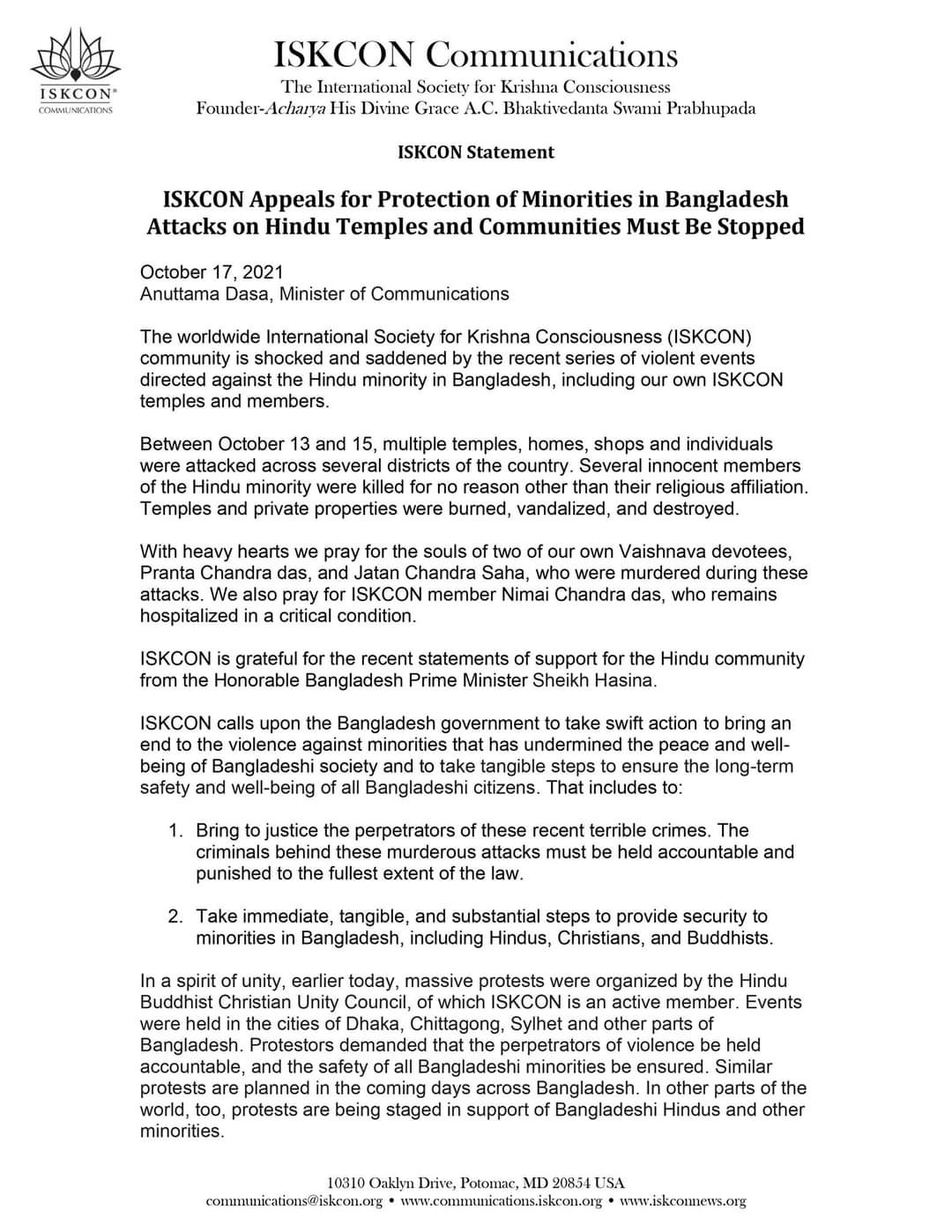 The Financial Express says Kotwali Police were called to remove the text from the murti on 13 October but video of the officer holding the text went viral on social media coupled with hate speech to attack Hindu sites for desecrating a book.
Das recounts that soon after, a mob of around 500 entered the temple and brutally attacked devotees during lunch at 2 pm. Footage on social media documented violent men tearing down the Durga puja pandal outside the temple. Das says they beat the devotees inside, killing one and abducting another before murdering him and throwing the body into a pond. The deities were destroyed, while the murti of Srila Prabhupad and the temple's books were burnt before looting.
Silence in the media, and the removal of accounts uploading footage for no good reason by Twitter, compromised citizen justice efforts to share news as violence spread across Bangladesh in a series of about 282 incidents. The Financial Express reports Police have arrested 450 culprits over 72 of the cases.
Concern over delayed responses expressed by Das indicates bureaucratic malaise coupled with likely media suppression. ISKON had immediately contacted the Indian Government, who Das says, told ISKON they were in talks with Bangladesh counterparts. ISKON wrote to the United Nations who took three days to reply before the Dhaka official finally condemned the attacks over Twitter.
Das says no media paid attention until Hindus got on the streets and protested. Reports in America showed opposing protests calling for justice on blasphemy.
Bangladesh news reports on SBS Australia were the only mainstream source here and are strictly Bangladeshi Government approved content. A lack of subtitles made these reports inaccessible and SBS did not report anything in English.
No reporting from the Australian National Broadcaster, ABC, the Sydney Morning Herald nor the Age. In fact, it was not only crickets but cricket from SBS News on 17 October 2021 in a search by date for Bangladesh news.
Some commentators fear this uniform silence is a sign of collaborative pressure to cover up atrocities or a sign of imminent Hindu Genocide. The ISKON spokesperson Radharamn Das takes the combined factors of failure to condemn and stop the attacks, media silence, and shutdowns as a red flag for Hindu safety all around. The same picture is seen across international responses.
For example, the United States Embassy in Bangladesh of 19 October 2021 statement on Dhaka makes no mention of the word Hindu and calls it 'targeted violence, orchestrated hate and religious violence.'
Das called upon Hindus to wake up, to become physically fit and fight for their human rights. He urged Hindus to learn from their perpetrators and realise they cannot rely on the police and the government to protect them.
He said Hindus were treated as outsiders in their own country and he recommended they take responsibility for their own safety.