By Jai Bharadwaj and Amit Sarwal

The BAPS Swaminarayan temple of Western Sydney's Rosehill suburb has been vandalised by Khalistan supporters.
This incident happened after the calm of almost two months of Khalistan activities in Australia.
In the early hours of Friday morning, temple management found the front wall of the temple vandalised with graffiti "Declare Modi Terrorist (BBC)" and a Khalistan flag hanging on the gate.
Sejal Patel is a resident of Harris Park and a daily visitor to the Swaminarayan temple.
Mrs Patel told The Australia Today, "When I came this morning for prayers I saw ugly vandalism on the front wall."
"Who in their right mind would do this to our peaceful temple community,"

said, Mrs Patel.
The Australia Today understands that NSW police were notified by Temple management as early as 7 am.
Temple management has told The Australia Today that NSW Police officers have attended the Temple and CCTV footage has been provided to assist them in the investigations.
BAPS Shri Swaminarayan Mandir has issued a detailed statement with the title "Appeal For Peace" about the incident.
Earlier this year three Hindu Temples in Melbourne and two Hindu Temples in Brisbane were vandalised by Khalistan supporters.
Unlike previous attacks on Hindu Temples, this time emboldened Khalistan supporters have also put the Khalistan flag to claim that they are not worried about police authorities.
Sai Paravastu is the National Secretary of the Hindu Council of Australia.
Mr Paravastu told The Australia Today, "The Hindu Council of Australia strongly condemns the act of vandalism on BAPS Swaminarayan Temple in Rosehill.
"This heinous crime is not only an attack on the sanctity of the Temple but also an insult to the Hindu community in Australia."
"We urge the authorities to investigate this matter thoroughly and bring the perpetrators to justice.
We also call upon all members of the community to stand together against such acts of hate and violence and to promote mutual respect and understanding among all faiths and cultures."
In January 2023, the Indian-Australian community was dismayed with three of its most iconic Hindu temples outside the Indian subcontinent vandalised with anti-Hindu graffiti.
The vandalism of the historic Shri Shiva Vishnu Temple in Carrum Downs came just within a week of anti-India and anti-Hindu graffiti smeared on the walls of BAPS Swaminarayan Mandir in Mill Park.
The International Society for Krishna Consciousness (ISKCON) temple also known as the Hare Krishna Temple is a well-known centre of the Bhakti Yoga Movement in Melbourne and was the third to be vandalised by Khalistan supporters.
Member of Parliament for Parramatta Andrew Charlton reached the BAPS Temple as soon as he was informed of the Hindu Hate incident.
Mr Charlton along with Temple authorities helped to repaint the wall.
Mr Charlton told The Australia Today, "This morning, BAPS temple in my electorate of Parramatta was vandalised by religious extremists.
"I am deeply shocked and saddened by this act of mindless vandalism. Everyone in Australia has the right to practice their faith in peace."
"The Federal government will not tolerate acts of religious extremism. Relevant federal and state authorities are now investigating this incident,"

Mr Charlton said
"This act of hate has no place in our community. I urge everyone to remain calm as the
relevant authorities respond to this matter," he concluded.
Indian Prime Minister Narendra Modi is scheduled to visit Sydney for the QUAD summit on 24th May. Prime Minister Anthony Albanese assured Indian PM, Modi of strict action when Mr Modi raised the Hindu Temple attack issue on Albanese's India visit.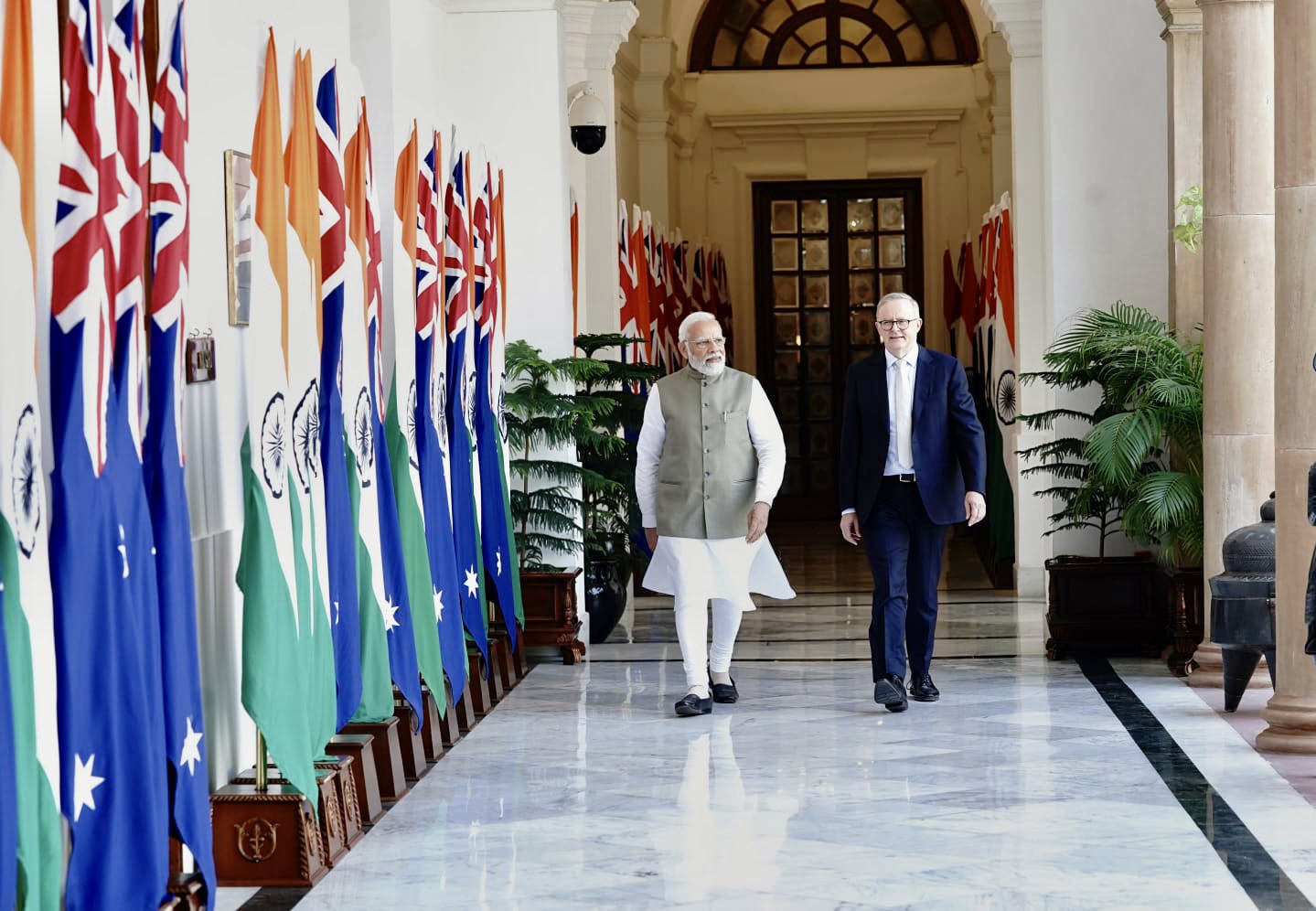 "Australia won't tolerate any extreme actions and attacks that took place in religious buildings, and there is no place for such action against Hindu temples," Prime Minister Anthony Albanese said while addressing a press conference in New Delhi.
And we will take every action through our police and also our security agencies to make sure that anyone responsible for this faces the full force of the law.

We're a tolerant multicultural nation, and there is no place in Australia for this activity,"

said PM Albanese.
NSW Police spokesperson has provided The Australia Today following statement.
"Officers from Cumberland Police Area Command have commenced an investigation following reports of malicious damage to a religious site in Rosehill.
"Police are conducting inquiries into the circumstances surrounding the incident and anyone with information is urged to contact Crime Stoppers on 1800 333 000."
BAPS Swaminarayan Temple committee has told The Australia Today they will release an official statement soon.
The Australia Today has contacted a number of stakeholders, they are yet to provide an official statement. We will update the story as we keep receiving statements.