Eight people have died and up to three people are missing in Queensland's "fast and furious" floods, which have damaged thousands of homes and businesses after one year's worth of rain fell on parts of the southeast.
Surf lifesavers found the bodies of a man in his 50s and his dog in a submerged car in the Currumbin Valley on Monday after they drove into floodwaters overnight, police said.
Another seven people have died in the catastrophic floods, which have impacted more than 18,600 homes and more businesses.
Police hold "grave concerns" for two men missing in Brisbane and to the north at Glen Esk, while they're also looking for a car reportedly swept away at Yatala.
However, 32-year-old Cameron Rogers has been found safe and well after he went missing near Goodna, west of Brisbane.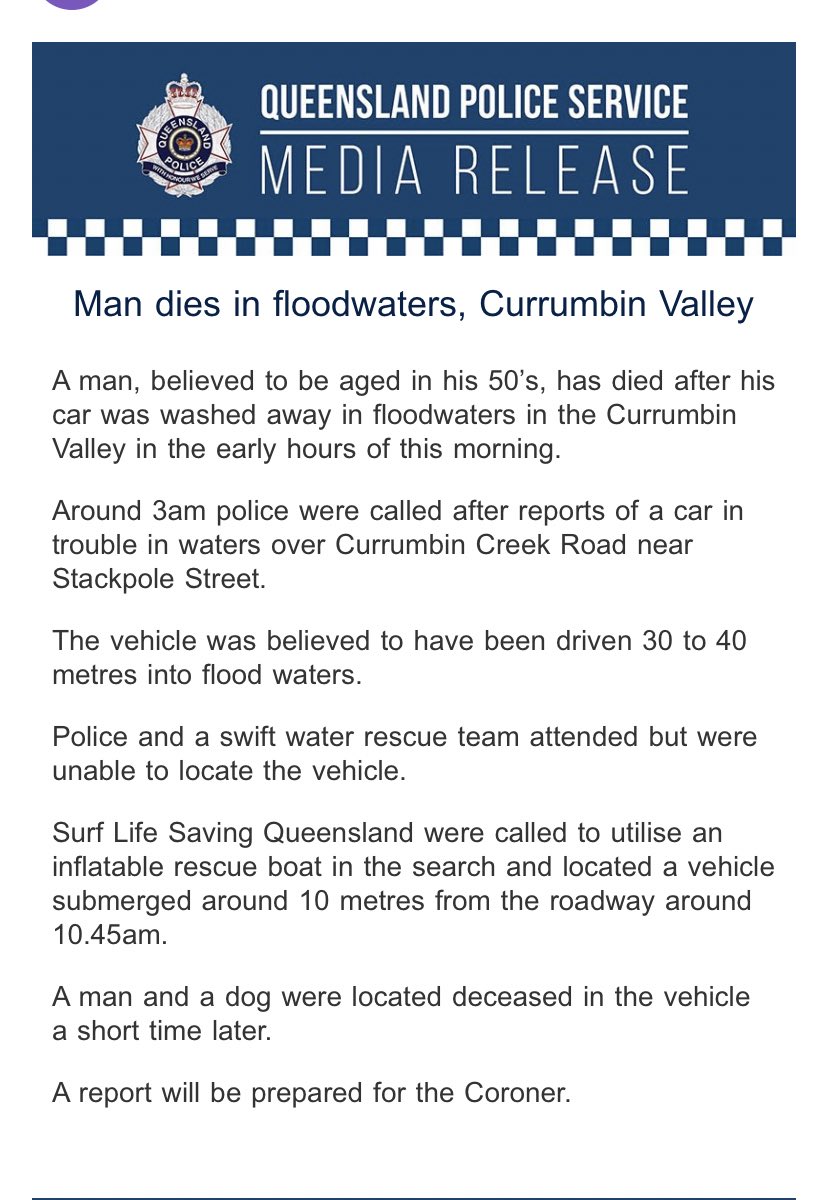 There is major flooding on the Brisbane, Bremer, Lockyer, Logan and Albert, Mary, North Pine, Noosa and Maroochy rivers after a year's worth of rainfall in some areas in one or two days.
Premier Annastacia Palaszczuk said the intensity of the downpours and severity of the floods were not expected.
"It has been fast and it has been furious, and it has had a big impact. That is the facts," Ms Palaszczuk told reporters on Monday.
Emergency services conducted more than 130 Swift water rescues and responded to more than 2200 calls for help in 24 hours.
The Brisbane River is falling after peaking 3.85 metres on Monday morning, below the 2011 flood peak of 4.46m, but is set to rise again to 3.7m at 9 am on Tuesday.
More than 15,000 homes are expected to be impacted in Brisbane and 3600 in Gympie, north of the Sunshine Coast, and there are 1544 people in evacuation centres.
More than 54,000 homes are without power, but drinking water supplies are secure with the main Mount Crosby Water Treatment Plant back online after flood debris clogged its filters on the weekend.
Trains, buses and ferries have been suspended across much of the southeast and major highways including the M1 have been cut by floodwaters, however, the Bruce Highway north of Brisbane is set to reopen on Monday.
All schools in the southeast have been closed and people are urged to work from home.
Bureau of Meteorology forecaster Diana Eden said many areas had recorded more than 70cm of rain in the past week with Mount Glorious topping out at 1.5m.
"Some of the rainfall totals that we've seen over the course of this event have been approaching rainfall totals that we would normally expect over the course of a year," she said.
About 2.2 million megalitres of water, the equivalent of four Sydney Harbours, has flowed into the Wivenhoe and Somerset Dams.
Premier Palaszczuk defended not pre-emptively releasing water from the dams for flood mitigation last week.
"We didn't know that was going to happen. This is Mother Nature. I can't control Mother Nature, the people of this state can't control Mother Nature, and sometimes they throw stuff at us and we got to deal with it," she said.
Prime Minister Scott Morrison said disaster assistance payments would be available for affected communities and the Defence Force would be deployed to help clean up.
"It can include troops themselves engaged directly in the same clean-up effort that so many people from the city of Brisbane will be engaged with as part of the Mud Army," Mr Morrison said.
The weather bureau said there could be more severe thunderstorm activity in the region from Wednesday, with damaging winds, hail and heavy rainfall. However, it would not be as intense as the last week.