Prime Minister Anthony Albanese and Indian Prime Minister Narendra Modi agreed to further strengthen the bilateral relationship between Australia and India at the Annual Leaders' Summit in New Delhi.
Both leaders announced their intention for the soonest possible conclusion of the ambitious Comprehensive Economic Cooperation Agreement (CECA), which will build on the landmark trade agreement signed last year.
The CECA will be a transformational deal that will create new jobs and opportunities in both countries.
Prime Minister Anthony Albanese said, "I am proud of the deep and vibrant ties between our nations. My visit has strengthened the already close relationship that Australia enjoys with India, a key partner and good friend in the Indo-Pacific."
"Building a stronger partnership with India will deliver tangible benefits for Australia in trade and investment, education, renewable energy, defence and security, and culture.
Indian PM Modi said that he and Mr Albanese discussed in detail various aspects of mutual cooperation.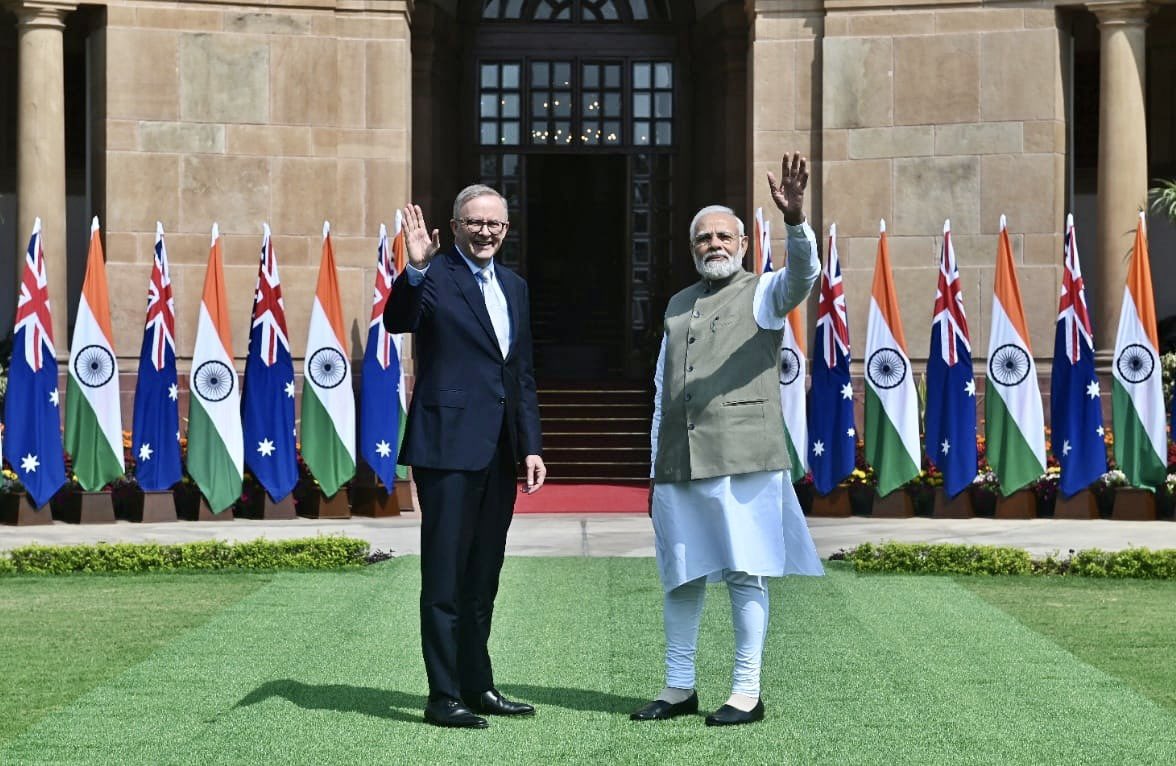 PM Modi said, "Renewable energy is the area of priority and focus for both countries. The trade agreement implemented last year has opened up better opportunities for trade and investment between the two countries. People-to-people relations are a major basis of India-Australia friendship."
"Security is an important part of our comprehensive Strategic Partnership. These agreements have been made in the last few years, in which logistic support for each other's armies is also included,"

PM Modi added.
In recognition of a unique part of the economic relationship, PM Albanese also discussed the potential presented by the India-Australia Audiovisual Co-Production Agreement. The Agreement will support skilled jobs, creative exchange, and the development of culturally significant screen projects in both countries.
The Prime Ministers discussed their shared ambition on climate change and the opportunities presented by the global energy transition, agreeing to build on existing cooperation on solar and hydrogen towards a Renewable Energy Partnership.
Prime Minister Albanese informed Prime Minister Modi that the Centre for Australia-India Relations in Australia had commenced operations under the leadership of Tim Thomas, the Centre's inaugural Chief Executive Officer.
"I thank Prime Minister Modi for hosting my first official visit to India, and look forward to welcoming him to Australia for the Quad Leaders' Summit mid-year."
They welcomed the establishment of a task force to advise the Australian and Indian governments on opportunities to accelerate the rollout of solar PV and clean supply chains, led by Australian solar expert, Professor Renate Egan and eminent Indian scientist Professor Anil Kottantharayil.
The leaders agreed to strengthen the Australia-India defence and security partnership in support of both nations' shared ambition for an open, stable and prosperous Indo-Pacific. They welcomed Australia's hosting of Exercise Malabar this year for the first time.
Education was a key focus of the Annual Leaders' Summit.
The Prime Ministers welcomed a new agreement that will support mutual recognition of educational qualifications and reported that officials have made significant progress on a new Migration and Mobility Partnership Arrangement.
This Agreement will encourage the mobility of students, graduates and professionals and enhance cooperation on irregular migration issues.