Skipper Mitchell Marsh heaped praise on the young debutant Tanveer Sangha who was one of the standout players in the Baggy Greens victory against South Africa. 
In 18 years, his bowling figure of 4-31 was the best for a player making his debut for Australia. Tanveer's spin magic made short work of the hosts South Africa as Australia cruised comfortably towards a thumping 111-run victory.
After the game, Marsh lauded the 21-year-old for his exceptional performance and hailed the calmness of the spinner.
He said as quoted from cricket.com.au,
"I don't think Tanveer's heart rate gets over 100," his captain Mitch Marsh said, labelling Sangha a "ripping young kid".
"He was in the gym when he found out about playing in the game as a debutant and he was pretty chilled and said he's ready to go, it appears that he keeps it very simple, which will hold him in good stead for top-level cricket.
"His demeanour is fantastic. I'm proud of him to come in and have a debut like that. He's got a great smile, so hopefully we see it for many years to come,"

Marsh added. 
Hailing from Indian roots, Tanveer Sangha's remarkable cricket journey commenced at a tender age. His ardour for the game was lovingly nurtured by his family, who stood steadfastly by his side, empowering him to chase his aspirations. Particularly noteworthy is the role of his father, Joga, who migrated to Australia in the 1990s and embraced the role of a taxi driver in Sydney, while his mother excelled in her profession as an accountant.
Sangha's cricketing prowess first drew attention during the U19 World Cup in South Africa, where he left an indelible mark by securing an impressive tally of 15 wickets across 6 matches. This early achievement signalled his emergence as a potential cricket sensation. As he continued to refine his skills, Sangha's journey propelled him closer to clinching a coveted spot in the Australian squad for the upcoming ODI World Cup in India.
This inspiring journey stands as a testament to the power of passion, dedication, and unwavering family support in propelling individuals to reach their dreams. Tanveer Sangha's story is a true reflection of how talent and determination, nurtured by a supportive environment, can pave the way for remarkable achievements in the world of sports.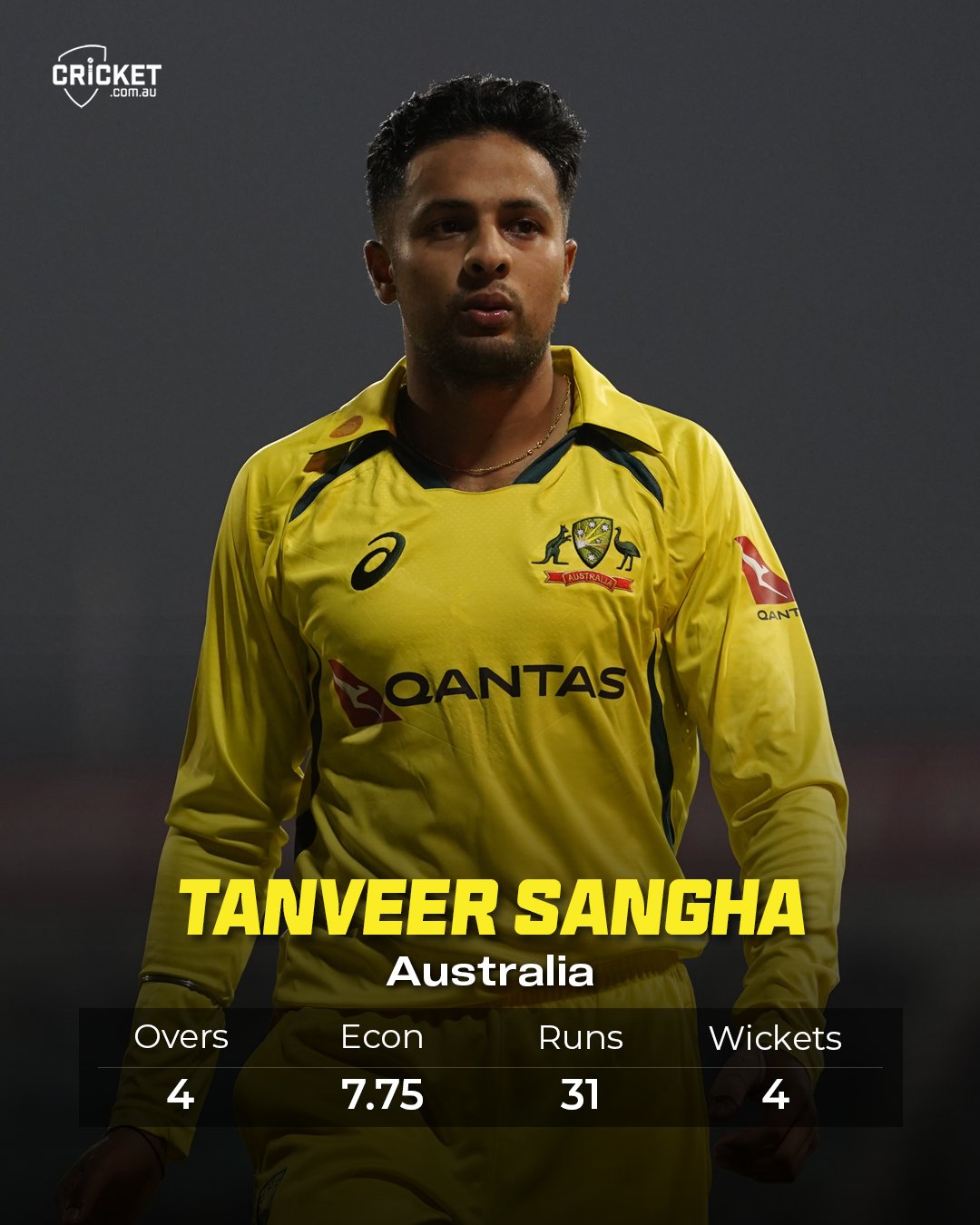 Coming to the match, Australia set a massive target of 227 for the hosts with skipper Mitchell Marsh playing a captain's role and powering the visitors to the gigantic total with his unbeaten 92(49)*. 
Tim David's knock of 68 off 24 runs was also vital in powering the Baggy Greens to the mammoth total. 
Australia who held the record of scoring the most runs in the powerplay broke their own record as the opening order plundered 70 runs in the first six overs making the Proteas bowlers toil hard. 
Once the onslaught began, South African bowlers started spraying deliveries all over the pitch. 
Marsh and David defined modern-day batting with their aggressive yet subtle shot technique to make the hosts run all over the field to chase the ball.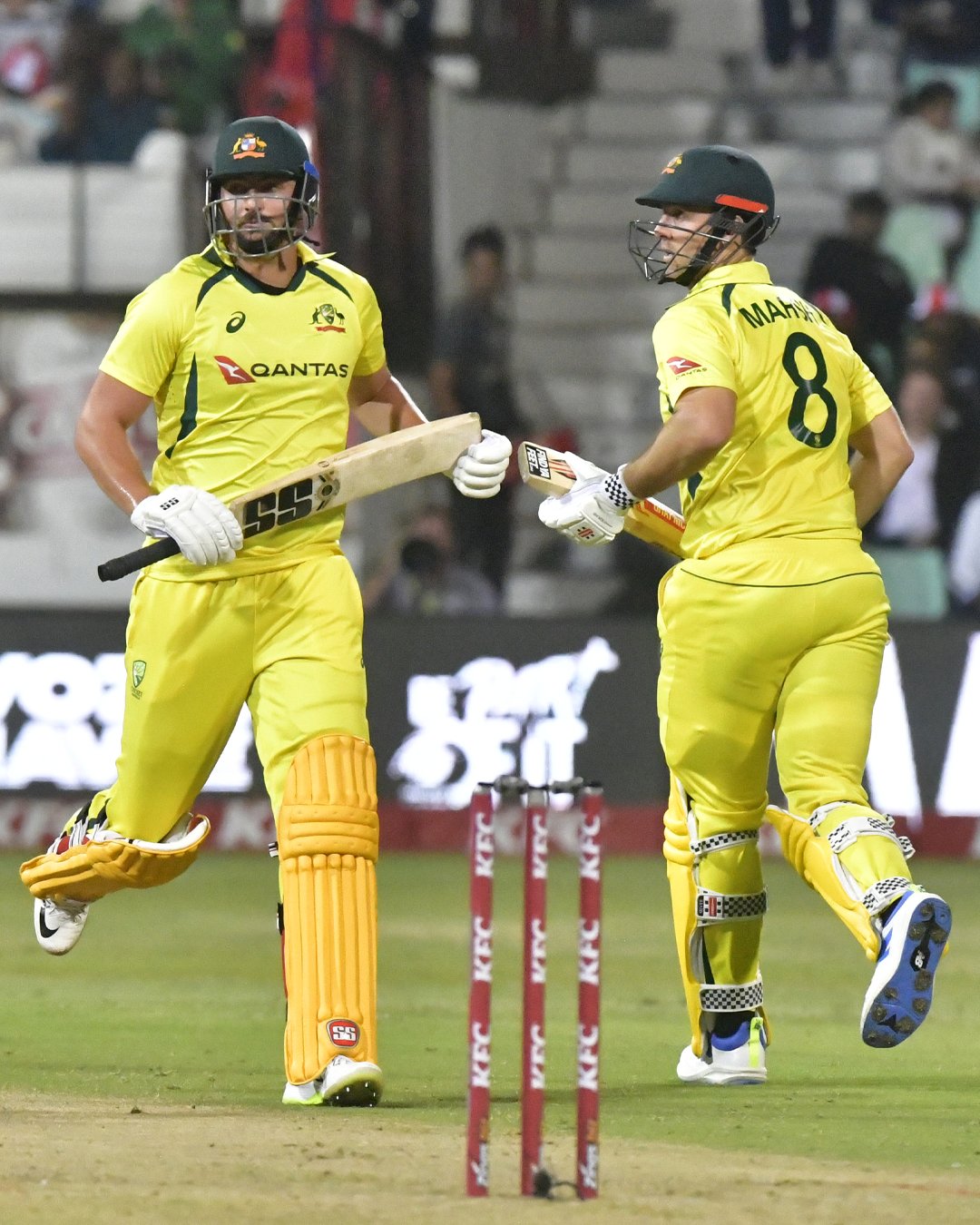 South Africa on the other hand failed to match the intensity of the Australia batters and bundled out on a score of 115.
After suffering a 111-run defeat, the hosts would be keen to rebound and make the series 1-1 while Australia who have already tasted blood will be keen to clinch the series.
Support Our Journalism
Global Indian Diaspora needs fair, non-hyphenated, and questioning journalism, packed with on-ground reporting. The Australia Today – with exceptional reporters, columnists, and editors – is doing just that. Sustaining this needs support from wonderful readers like you.
Whether you live in Australia, the United Kingdom, Canada, the United States of America, or India, you can pay a subscription by clicking Patreon. Buy an annual 'The Australia Today Membership' to support independent journalism and get special benefits.