The Australian Federation of Islamic Councils (AFIC) has now cancelled a special online forum that would have included two senior Taliban representatives.
AFIC describes itself as the peak group representing Muslims in Australia.
AFIC was holding the event on Saturday (16th October 2021 at 5.30 pm ADST) to discuss the "Islamic Emirate of Afghanistan and the Muslim diaspora."
Islamic Emirate of Afghanistan is the extremist outfit Taliban's official name for their country amid the chaotic withdrawal of US-led forces.
Australians have raised concerns over this online session and condemned AFIC for supporting it online.
A senior member of the Muslim community told The Sydney Morning Herald that this event "throws the whole Muslim community under the bus just to get some attention."
An online petition demanding an apology from the Australian Federation of Islamic Councils has got almost one hundred and fifty thousand signatures.
In another post, AFIC blamed the Australian Hazara community for the backlash.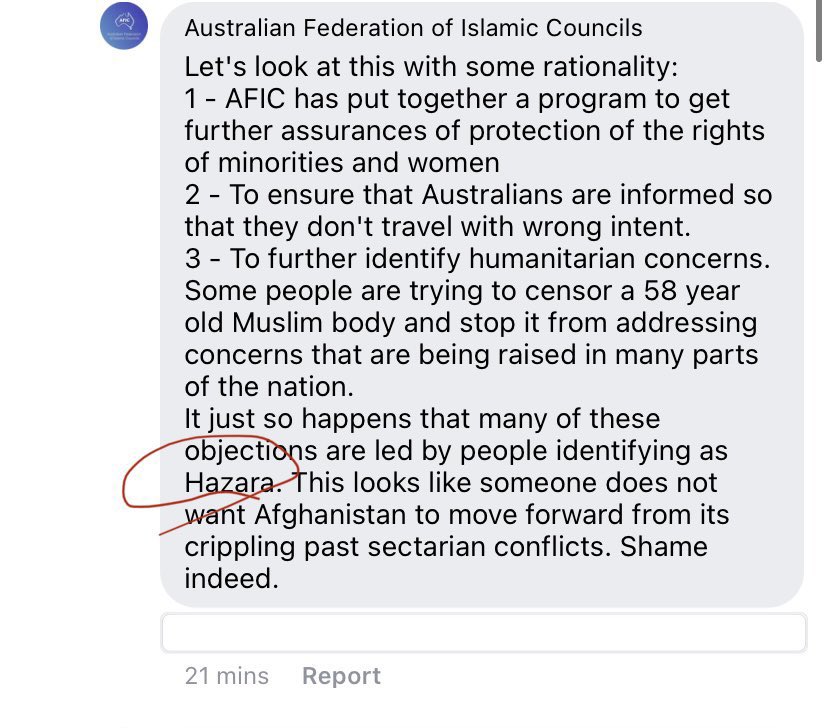 AFIC's promotional social media post for the event states:
"AFIC has brought together a stellar panel of speakers for an online forum on the future of Afghanistan and our role regardless of whether we are in favour or against recent developments."
Among the "stellar speakers" were AFIC's President Rateb Jneid and Imam Abdul Quddoos Al Azhari.
Al Azhari was declared to be Australia's grand mufti by AFIC despite the role already being filled by another Imam.
He holds a Diploma of Education and two Masters in Sharia and Arabic language.
Amongst the six speakers also include Taliban spokesman Suhail Shaheen and Sayed Abdul Basir Sabiri.
These two senior figures are representatives of the hardline Islamic group.
Members of the Afghan Australia Cultural Council Inc. have raised concerns over silencing of Afghan community in Australia.
"What is the Afghan community doing in silencing this event and having it cancelled? How can we let another corrupt organisation like AFIC give these terrorists a platform?"
Some have cliamed to even reported AFIC's event to the National security hotline.
NSW Labor's police and counter-terrorism spokesman Walt Secord has called the online event "irresponsible."
Speaking in the NSW Parliament, Secord said:
"This event looks like a road map to radicalisation. I am absolutely disgusted that any organisation in Australia would provide a platform to the Taliban and their primitive views."
One Nation Leader Mark Latham told Sky News it is "completely unacceptable" that the AFIC is promoting such a forum.
"Australian soldiers lost their lives combatting them, they seem to be unrepentant in terms of the sort of discrimination and oppression they force upon their own people in Afghanistan and we don't want those messages coming into Australia."
He added that "Someone's got to step in and bring some common sense to it."
Well-known Australian comedian Nazeem Hussain commented on a Facebook post promoting the event:
"Ummm … Is AFIC hosting a Zoom call with the Taliban? Or is this a joke post?"
Broadcaster Justin Smith told Sky News that the Taliban speaking at an AFIC event is "not a free speech issue."
"These are some of the worst people in the world. This is a little bit like if a Christian organisation decided to get three members of the KKK to speak at an event."
AFIC Chief Executive Officer Keysar Trad has defended the event citing the 'Taliban' as the recognised government of Afghanistan.
"Our members have serious concerns about and for the future of Afghanistan. We have many members who are Afghan-Australians and they want to hear directly about what the future holds."
He further claimed that the vast majority of community members support this online event.