Prime Minister Anthony Albanese has set the date for a historic referendum to change Australia's constitution in order to recognise its indigenous people.
More than 17 million registered voters across the country will vote on October 14 to decide on whether to change the constitution to recognise the land's original inhabitants through a First Nations advisory group with a direct line to the government.
PM Albanese announced the date for the country's first referendum in 24 years in a speech in Adelaide.
Mr Albanese said the voice had support from a vast cross-section of the country.
"On October 14, you are not being asked to vote for a political party or for a person, you're being asked to vote for an idea, to say 'yes' to an idea whose time has come."
"Referendums come around much less often than elections – this will be the first one this century," he said.
He added,
"On that day, every Australian will have a once-in-a-generation chance to bring our country together and to change it for the better."
In attendance at the event were not only the Prime Minister but also Indigenous Minister Linda Burney and South Australian Premier Peter Malinauskas.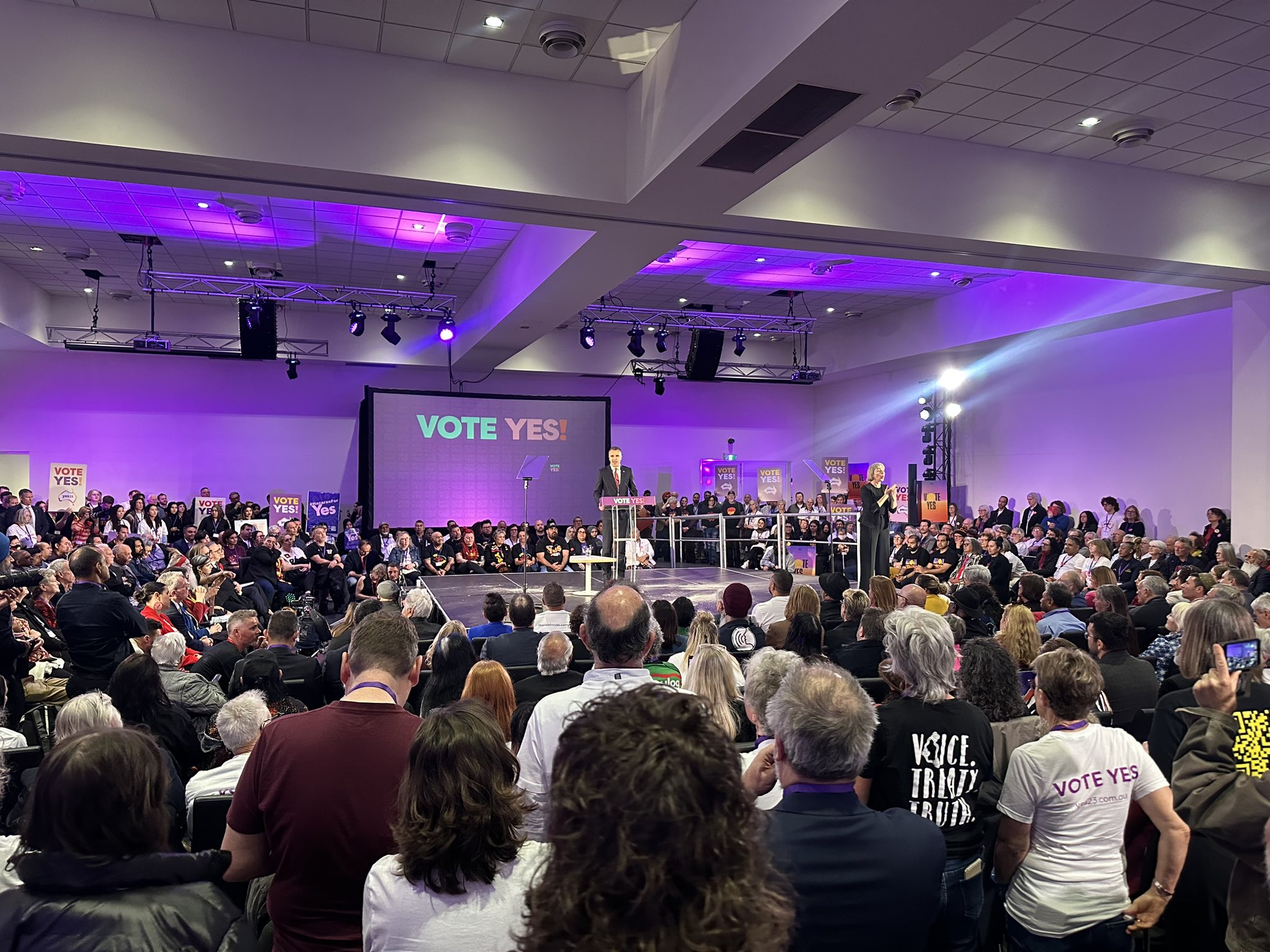 This announcement signifies the commencement of a six-week campaign focused on the proposed constitutional amendment.
The upcoming referendum will present Australians with the opportunity to acknowledge Aboriginal and Torres Strait Islander individuals as the original inhabitants of Australia. This recognition would entail establishing an advisory body referred to as "the voice."
As soon as the date was announced, the no campaign sent a text message calling for tax-deductible donations that read, "It's on! Albo has called it and we have until OCT 14 to beat the Voice!"
Just one question will be asked that requires a "yes" or "no" answer – "A Proposed Law: to alter the Constitution to recognise the First Peoples of Australia by establishing an Aboriginal and Torres Strait Islander Voice. Do you approve this proposed alteration?"
The question has generated hundreds of headlines and hours of debate online and on air, as both sides mount vigorous campaigns to sway the majority in all states and territories.
The vote's passage requires a double majority vote that is over 50 per cent of voters across the country, and at least 50 per cent in a majority of states – at least four of six. Votes in the territories – the Northern Territory and the Australian Capital Territory will only be included in the national total.
The selection of South Australia for the launch is strategic, as it is regarded as a pivotal battleground state for the upcoming poll.
Projections suggest that Queensland and Western Australia are likely to lean towards a 'no' majority.
Forecasts indicate that NSW and Victoria are poised to align with the 'yes' campaign.
According to a survey conducted by the Australia Institute, which polled 605 South Australians, 43 per cent of respondents support the establishment of an Indigenous voice in parliament, while 39 per cent are against it.
The remaining 18 per cent who remain undecided are evenly divided in their inclinations, resulting in a slight lead for the 'yes' side at 52-48.
The vote is being seen as a pivotal moment, not only because constitutional change is rare and irreversible but because it has illuminated issues that have festered for centuries.
The Voice, if approved, would enshrine a body in the constitution made up of Indigenous people to advise the government on laws that relate to them.
According to supporters, the vote is an opportunity to treat the raw wounds of injustice, and to finally listen to First Nations people following generations of persecution, racism and neglect.
Others say it's a token gesture that at best will achieve nothing and risks dividing the nation by giving some Australians a special place above others in the constitution.
Support Our Journalism
Global Indian Diaspora needs fair, non-hyphenated, and questioning journalism, packed with on-ground reporting. The Australia Today – with exceptional reporters, columnists, and editors – is doing just that. Sustaining this needs support from wonderful readers like you.
Whether you live in Australia, the United Kingdom, Canada, the United States of America, or India you can take a paid subscription by clicking Patreon. Buy an annual 'The Australia Today Membership' to support independent journalism and get special benefits.