Indian Prime Minister Narendra Modi on Thursday met with US Vice President Kamala Harris, a day ahead of his highly anticipated bilateral meet with US President Joe Biden.
This was PM Modi's first in-person meeting with Ms Harris after she made history by becoming the first Indian-origin person to become the Vice President of America.
During the meeting Vice President Kamala Harris "suo moto" referred to Pakistan's role with regard to terrorism and agreed on the need to rein-in and closely monitor Islamabad support for terror groups, informed Foreign Secretary Harsh V Shringla.
Harris acknowledged the presence of terror groups in Pakistan, said Shringla when asked whether the issue of Pakistan emboldening Taliban came up during the discussion between PM Modi and the US Vice President.
"In that context when the issue of terrorism came up. The Vice President suo moto referred to Pakistan's role in that regard. She said that there were terror groups working there. She asked Pakistan to take action so that these groups do not impact on US security and that of India,"

the Foreign Secretary said during a special briefing.
"She agreed with Prime Minister's briefing on the fact of cross-border terrorism and the fact that India has been a victim of terrorism several decades now and the need to rein in and closely monitor Pakistan's support for such terror groups," he added.
Pakistan has been accused of providing overt and covert support to the Taliban. Early this month, US Secretary of State Antony Blinken noted that Pakistan has "harboured" members of the Taliban including the terrorists.
PM Modi praises Kamala Harris as 'source of inspiration', invites her to India
"Your election as Vice President of USA has been an important and historic event. You are a source of inspiration for many across the world. I am confident that under President Biden and your leadership our bilateral relations will touch new heights," PM Modi said in a joint press conference with Harris after the two leaders met.
"Continuing on this journey of victory, Indians would also want you to continue that in India and therefore they are waiting to welcome you. I extend you an invitation to visit India,"

PM Modi added.
Earlier on Wednesday, Prime Minister Modi arrived in Washington for his much-touted US visit. He had earlier addressed the Global COVID-19 Summit called by US President Biden.
Biden is scheduled to host PM Modi at the White House on September 24. This is going to be the first in-person meeting between the two leaders after Biden took over as the US President on January 20.
Biden will host the first-ever in-person Quad Leaders' Summit, which will be joined by Prime Minister Narendra Modi, Australian Prime Minister Scott Morrison and Japanese Prime Minister Yoshihide Suga.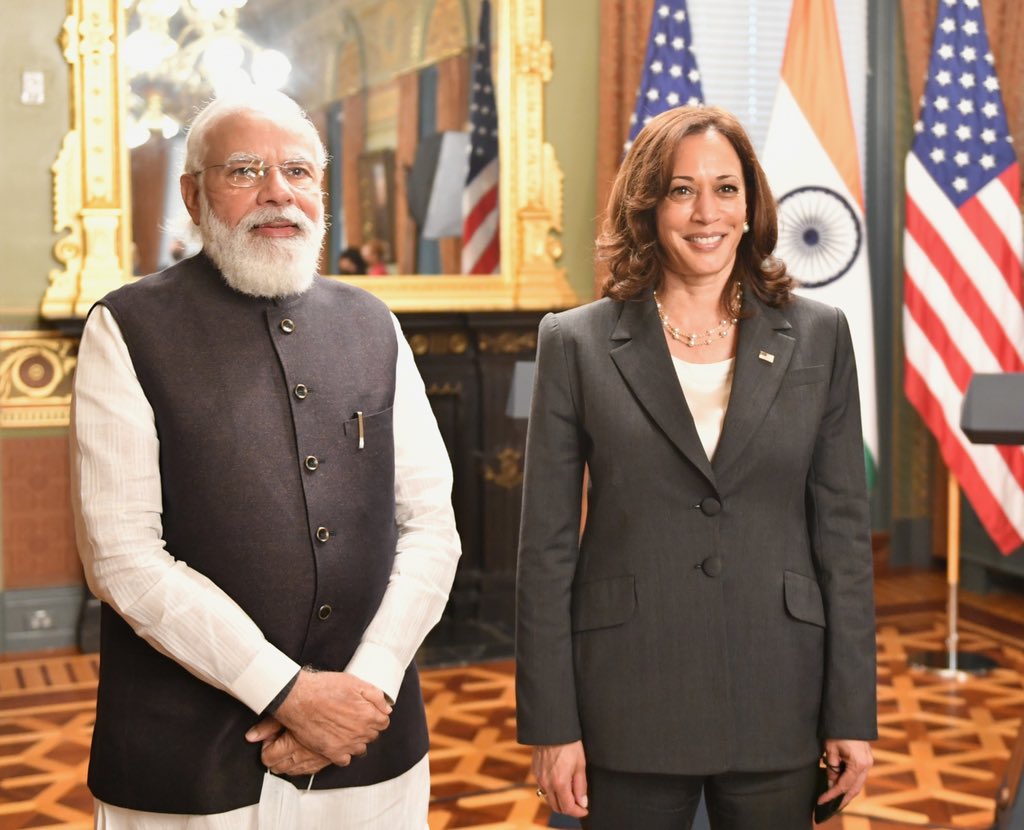 PM Modi's US visit will conclude on September 25 with an address at the United Nations General Assembly focusing on the pressing global challenges including the Covid-19 pandemic, the need to combat terrorism, climate change and other important issues.
PM Modi is accompanied by a high-level delegation comprising National Security Advisor Ajit Doval, Foreign Secretary Harsh Vardhan Shringla and senior officials.
The high-level session of the UNGA began on Tuesday in New York. The theme for this year's General Debate is 'Building Resilience through hope to recover from COVID-19, rebuild sustainably, respond to the needs of the planet, respect the rights of people, and revitalise the United Nations.