Aaron Finch – Australia's longest-serving and most successful men's T20I captain and batter – has called time on his international career, conceding his body can no longer withstand the rigours of the short-format game at the highest level.
Finch will continue to play in the KFC BBL and is expected to confirm he's signed a further one-year contract with Melbourne Renegades – where he earned Team of the Year selection as a middle-order batter this summer – and will also consider options to play in overseas T20 competitions.
But having retired as captain of Australia's ODI outfit last year after a much-publicised struggle for form in the 50-over arena, he now walks away from international cricket having played almost 250 white-ball matches and five Tests for his country across a 12-year career.
Finch is the only Australia men's player to date to play more than 100 T20 Internationals (103), and in addition to being its most-capped skipper (76 matches) led his team to the nation's first T20 World Cup triumph in the UAE in 2021.
The 36-year-old also holds the record for the highest T20I score among all nations – an extraordinary 172 from 76 balls faced against Zimbabwe at Harare in 2018 – and has scored more runs (3120) than any other Australia batter, ahead of his long-time opening partner David Warner (2894).
But when he injured a hamstring in Australia's penultimate group game of their home T20 World Cup campaign against Ireland at Brisbane last November, speculation grew as to whether the hard-hitting right-hander had made his final international appearance.
While men's team coach and Finch's long-time confidante, Andrew McDonald, encouraged the veteran opener not to make any rushed calls about his T20 future with Australia not scheduled to play again in the format until next August, the decision became painfully clear during the recently concluded BBL|12 season.
"I always wanted to get through the Big Bash and re-assess after that, and I found my body was sore after a BBL game and took a couple of days to recover," Finch told cricket.com.au prior to making today's retirement announcement.
"He (McDonald) said give yourself time to make a decision that's not an emotional call, but one that's right for you and your family.
"I feel as though that's what I've done.
"I thought long and hard about it, but with a big break between games it gives everyone involved time to plan and prepare for the next T20 World Cup in 2024 (in the West Indies and USA) because I can't see myself getting there at all.
"It would be doing the position and the team a disservice to play on for purely selfish reasons.
What the Aussie players love about Aaron Finch
"Whoever takes over the leadership of that team, and as new opening batter, you've got to give them enough time and space to work into those roles and give them a great opportunity to make the team their own over the next 18 months.
"I've been bloody fortunate to play for 12 years, and I think the team's in a really good spot now for me to move on."
When he announced his decision to quit the ODI leadership and game last September, Finch indicated he planned to continue playing T20 cricket at international level beyond the most recent T20 World Cup.
But his aching body coupled with Australia's disappointing showing at that event – the host nation failed to qualify for the play-off rounds – meant those plans have been shelved.
Instead, he's eyeing another season in red for the Renegades, where he admits he became "a reluctant captain" after regular skipper Nic Maddinson went down with a season-ending knee injury this summer.
"I loved the new role in the middle-order with the Renegades, and being around the youngsters keeps you young for a little while," Finch said.
"Obviously Nic (Maddinson) does the leadership job, but I think helping out the youngsters is almost more important than captaining yourself.
"I'd like to see someone develop into that role and help mentor them while I'm still playing.
"It's important they can learn with a bit of experience around them so when it's my time to finish up totally from all cricket, the team is in a better place."
There are also other playing options he's interested in taking up, provided they fit with plans to spend more time with wife Amy and the couple's 18-month-old daughter, Esther.
But while Finch is looking to keep his hand in by resuming his roles in overseas domestic competitions, having previously represented nine IPL franchises and a couple of English counties, he acknowledges he won't be playing sufficient cricket to consider an international return.
"I'm hopeful to play in The Hundred (in the UK) because that's a competition I was really excited about for a couple of years, but then didn't get the opportunity with COVID and then some tours that came up," he said.
"And if anything else pops up and it's at the right time, I'd definitely be interested.
"It's really only international cricket that I'm walking away from at the moment.
"Plus I've been lucky enough to sign with Star India for some commentary stuff through the IPL and the 50-over World Cup (in India later this year), so that will be good fun.
"I've loved the broadcast side of it since I've done a bit more of it this year and last year.
"You get to sit there and watch cricket and talk about it – it's the best job in the world, besides playing."
Finch earned plaudits during BBL|12 for providing television viewers with remarkable insights into his on-field leadership style and tactical nous when wearing a microphone.
He's also interested in exploring coaching roles when he finally draws stumps on his decorated playing career, revealing he prefers the planning and research that comes with devising T20 blueprints to training sessions and on-field leadership responsibilities.
"I love diving through all the numbers, trying to find weaknesses or matching-up strengths of teams," Finch said.
"That's definitely an attraction, and if a coaching opportunity comes in the near future I'll consider that as well.
"It's an exciting time but anything I do, my family situation will be the first box that has to be ticked.
"And if everything falls into place there, I'd love to be involved wherever I can, whether it be playing, coaching or commentating."
Reflecting on his now-concluded international career, Finch confirmed the 2021 World Cup triumph – where Australia overcame pre-tournament form woes to secure the trophy against odds and expectations – as a stand-out highlight.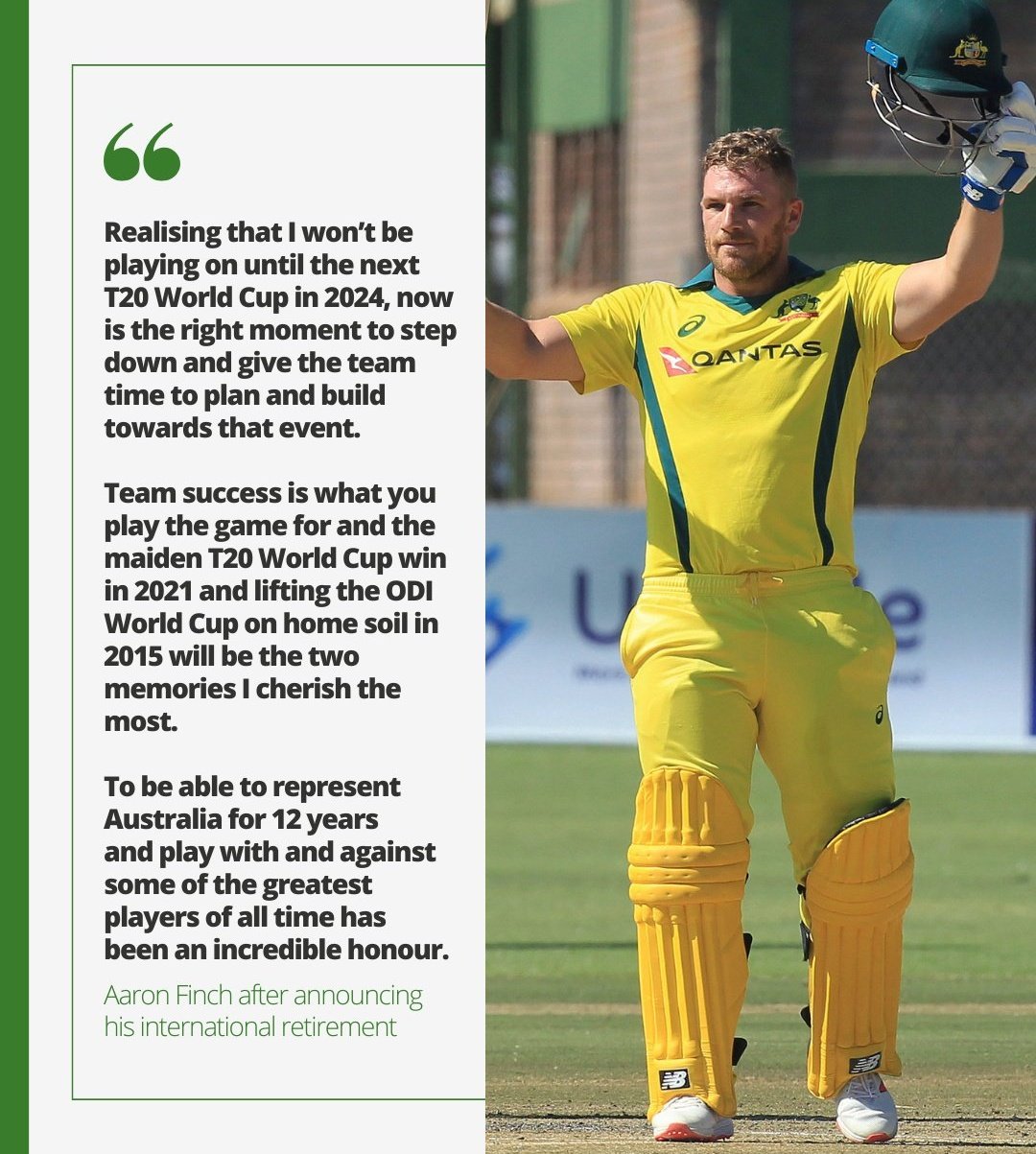 He also gleans great satisfaction from being the first – and to date, the only – Australia men's player to reach 100 T20I appearances, although Warner (99) and Finch's former housemate Glenn Maxwell (98) are expected to join him in that club later this year.
"I'm really proud of being able to achieve that, it proves I've been a decent player over a long period of time and not just a flash in the pan," he said.
"I tend to not think about myself in that way a lot of the time because I've spent a lot of my career being envious of Davey (Warner) and Smudge (Steve Smith), and what they can do.
"And then guys like Maxy (Maxwell) come along with all their innovations, so you spend most of your time being envious of your teammates rather than appreciating what you actually do quite well.
"It's a bit silly I guess when I should feel like I've been a decent player for quite a period."
Despite setting the benchmark for the highest T20I score, Finch claims his most cherished 20-over innings is the 156 he bludgeoned from 63 balls against England at Southampton in 2013.
At the time, he was just seven matches into his T20I career and – having posted just one half-century in his preceding appearances, and single-figure scores in each of his three previous innings for Australia – felt his tenure hung in the balance going into that game.
"It was the first time I actually believed I could play and be successful in international cricket," Finch recalled of the knock that stood as the highest individual T20I score for almost five years, until he bettered it at Harare.
"That was my break-out game, I guess, so it was really important for a number of reasons.
"It was a pretty special day, and nice to hold a world record for a while."
Disclaimer: This article was first published at Cricket.com.au