India skipper, Rohit Sharma, and young opener, Yashasvi Jaiswal, laid the foundation for a big score on the first day of the first Test match against West Indies at Windsor Park on Wednesday.
At the end of Day 1, India managed to put up a score of 80/0 with Rohit and Jaiswal unbeaten on the crease with respective scores of 30(65)* and 40(73)* respectively. Despite a couple of early LBW shouts against Rohit, India's opening stand didn't face issues in the third session.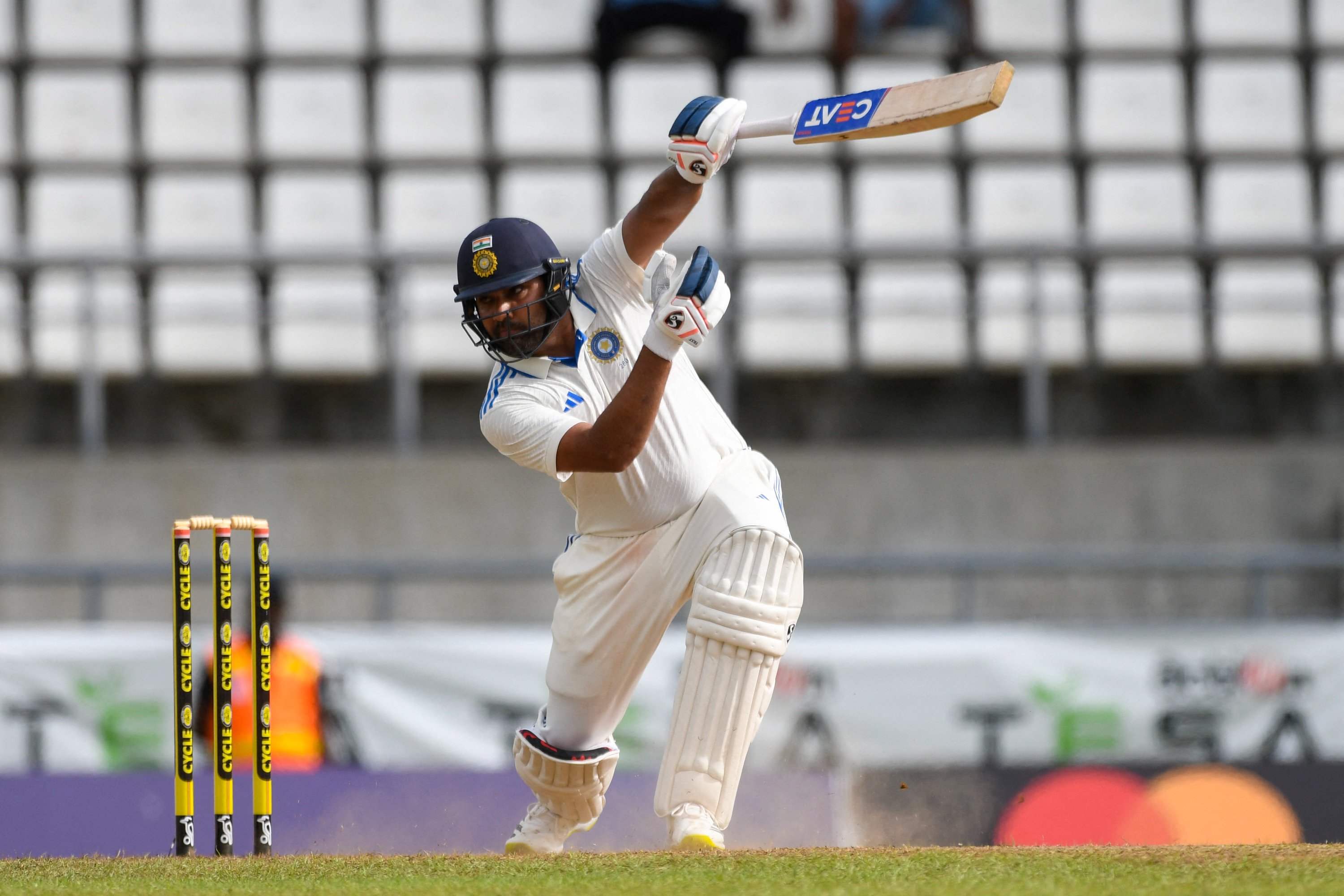 Yashasvi Jaiswal took his time to open his account, but as soon as he adjusted himself to the pitch conditions he started to take on the bowlers with confidence.
He opened his account with a beautifully executed shot to find the fence for a four. He tried to find the boundary once again with another shot but the fielder denied him to claim back-to-back boundaries.
Rohit on the other hand looked confident with his shot selection and defensive approach for the majority of the third session.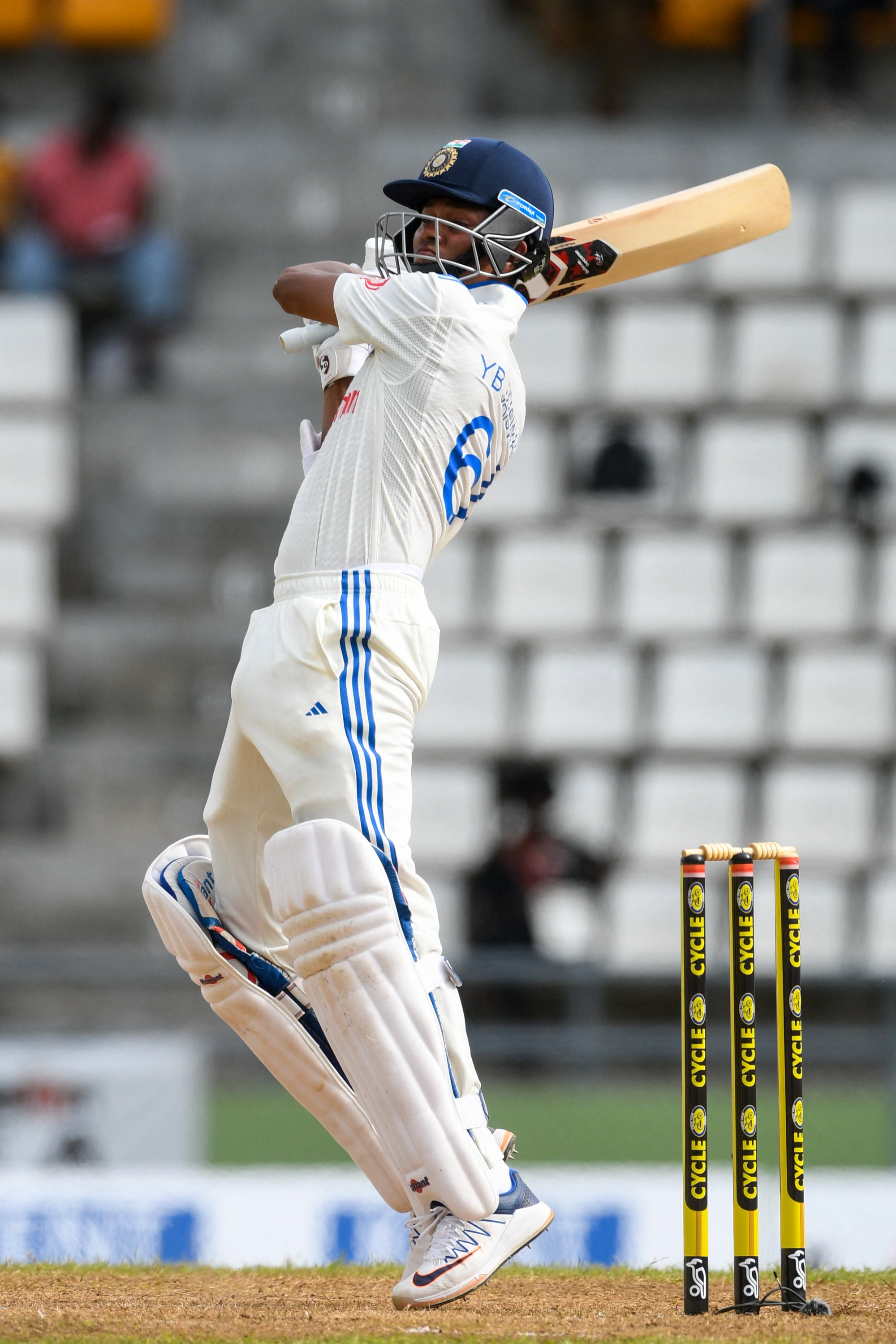 West Indies bowlers, on the other hand, struggled to find consistency in their line and length. This became evident after their review for an LBW appeal against Rohit Sharma was denied by the umpire's call.
Both players will be keen to convert their ominous starts into big scores on Day 2.
Earlier in the game, Alick Athanaze for the hosts took the battle against India bowlers, he took his time on the crease before launching his counterattack.
Shardul Thakur kicked off the second session with a maiden over with Athanaze holding onto his ground with his impressive defensive technique.
However, in the next over he made his intent clear with a classic cover drive off Jadeja's overpitched delivery which landed just outside the off stumps.
On the other end, Joshua Da Silva's struggle continued against the spin attack. He tried to push for a single in Jadeja's second over of the session but the attacking field setup didn't leave enough room for him to steal a single.
He eventually lost his battle against the spinner as he got caught up in two minds. The ball landed short with a touch of extra bounce, the ball went on to glance off his gloves and land straight into the hands of Ishan Kishan.
Athanaze continued to pick up boundaries trying to drag his team to a respectable score. He joined hands with Jason Holder to keep the hosts in the battle.
Back-to-back maiden overs once again brought pressure back on the Caribbean team. His shots to find the fence bore an uncanny resemblance to former WI skipper Brian Lara.
His impressive flick shot off Jadeja's over in the 44th over was one of the prime examples of him being Lara in disguise.
Holder-Athanaze's impressive 41-run stand ended after Mohammed Siraj was introduced back into the attack. Holder gave away a simple catch to Shardul Thakur to send the experienced all-rounder back to the pavilion for a score of 18(61).
Alzarri Joseph stepped on the crease and opened his account with an impressive boundary.
However, Ashwin ensured that Joseph didn't produce further shots as impatient Joseph tried to clear the boundary but in his eagerness to clear the boundary he failed to read the carom ball. His shot only resulted in a thick edge which was taken comfortably by Jaydev Undakat. Joseph departed for a score of 4(11).
West Indies received the final blow before the end of the second session with Ashwin dismissing the dangerous Athanaze for 47(99).
Ravichandran Ashwin scripts history and becomes the third Indian to claim 700 international wickets
Ashwin joined an elite list that is dominated by spinners as he claimed his fifth 5-wicket haul against the Caribbean team, according to ESPNcricinfo.
Ravichandran Ashwin became the third Indian bowler to claim more than 700 wickets in international cricket.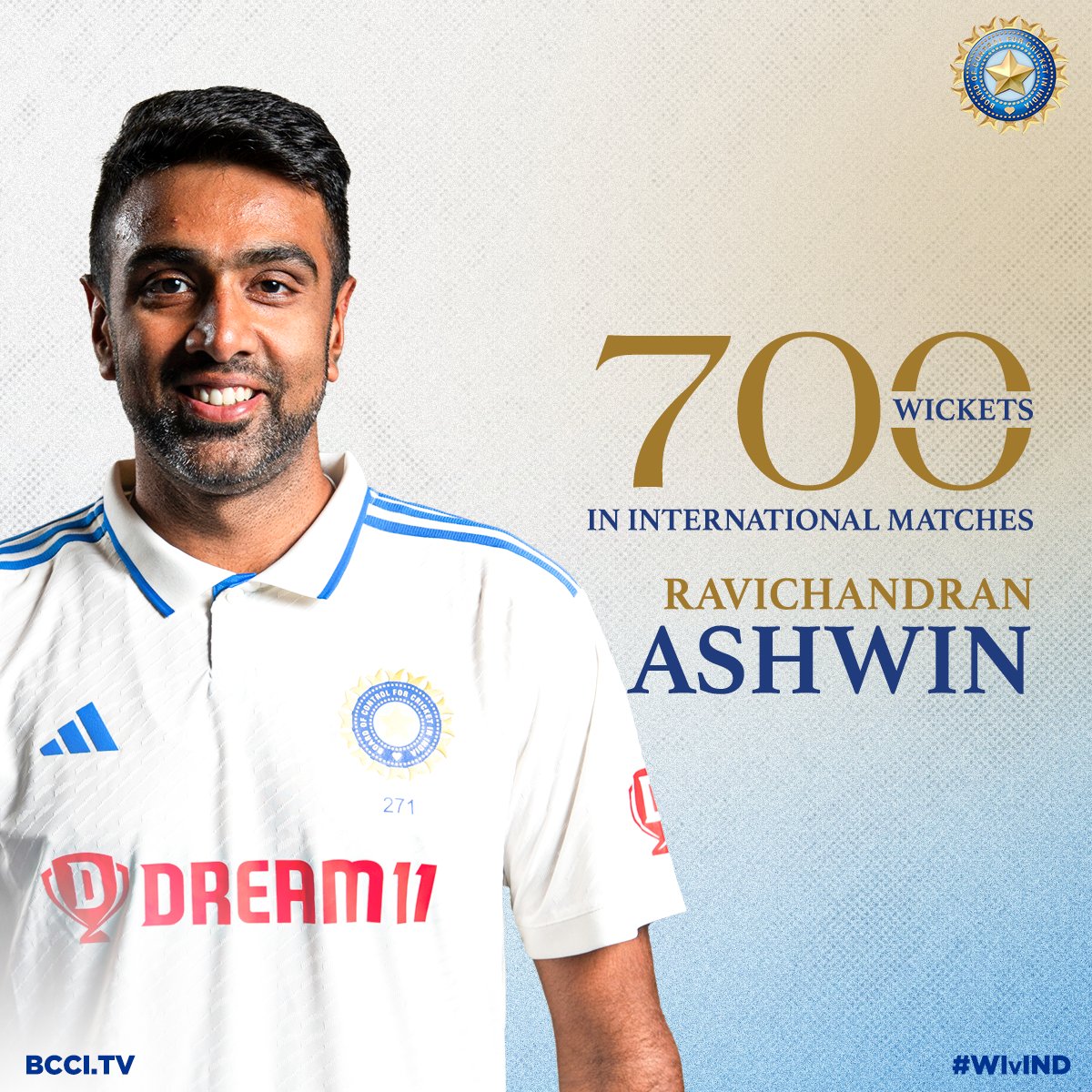 Former India head coach, Anil Kumble, is on top of the chart and is the leading wicket-taker for the country with 956 international wickets.
Former India spinner, Harbhajan Singh, stands on the second position with a record of taking 711 wickets in international cricket.
Ashwin will have the opportunity to move past him in this two-match Test series. Ashwin's five-wicket haul was also his third Test five-for against the West Indies, according to International Cricket Council.
Shardul Thakur also joined the party with Ashwin as he took the wicket of Raymon Reifer at 2. West Indies batter had no reply to India's experienced bowling lineup.
India ended the first session with a wicket of Jermaine Blackwood at 14 (34) when Siraj took a brilliant catch on Ravindra Jajeda's bowling.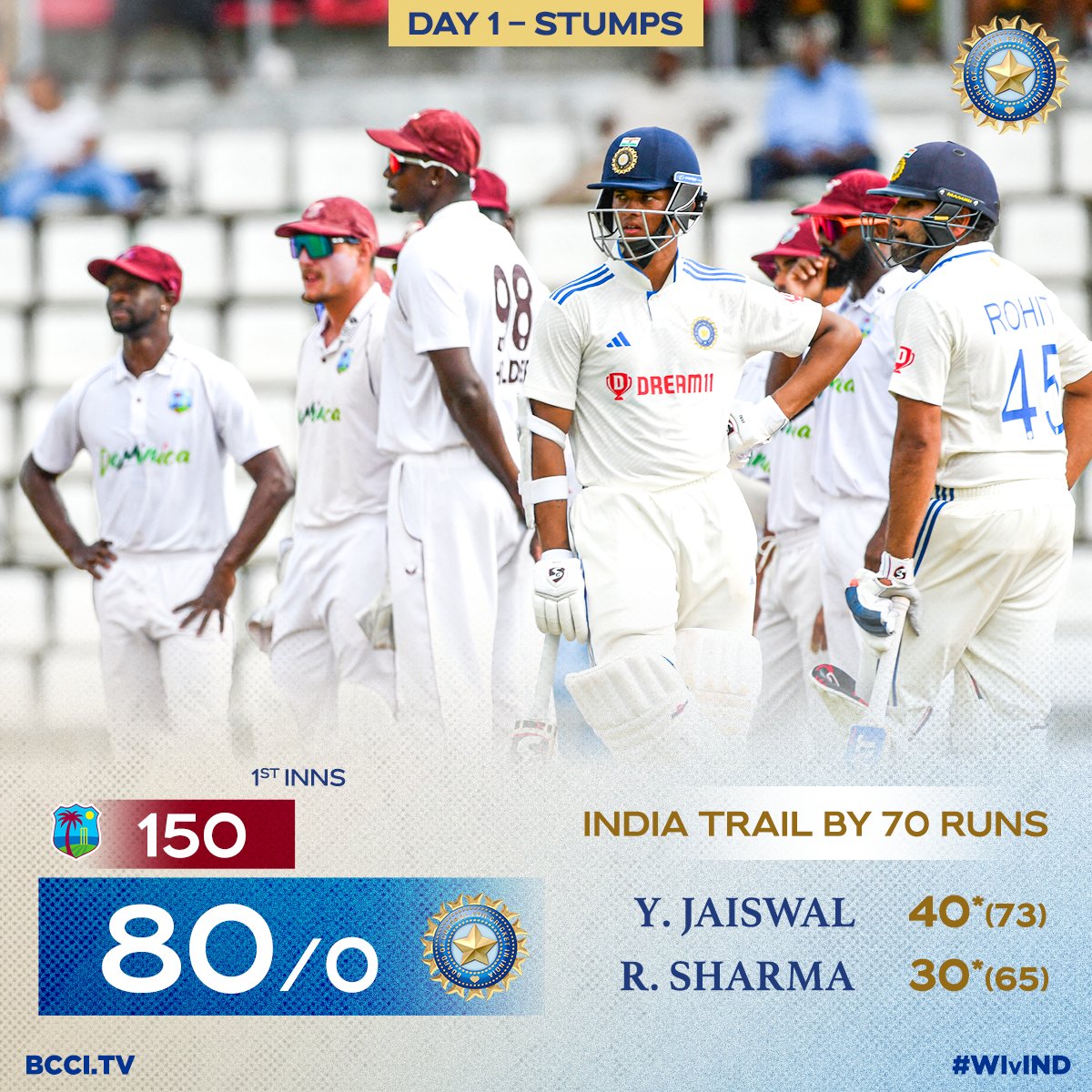 Brief score: West Indies 150 (Alick Athanaze 47, Kraigg Brathwaite 20; Ravichandran Ashwin 5-60) vs India 80/0 (Yashasvi Jaiswal 40*, Rohit Sharma 30*).